An inactivated vaccine that aids in reducing or preventing bovine respiratory disease caused by bovine herpes virus 1 (IBRV), bovine viral diarrhoea virus type 1 (BVDV), parainfluenza virus type 3 (PI3V) and Mannheimia (Pasteurella) haemolytica.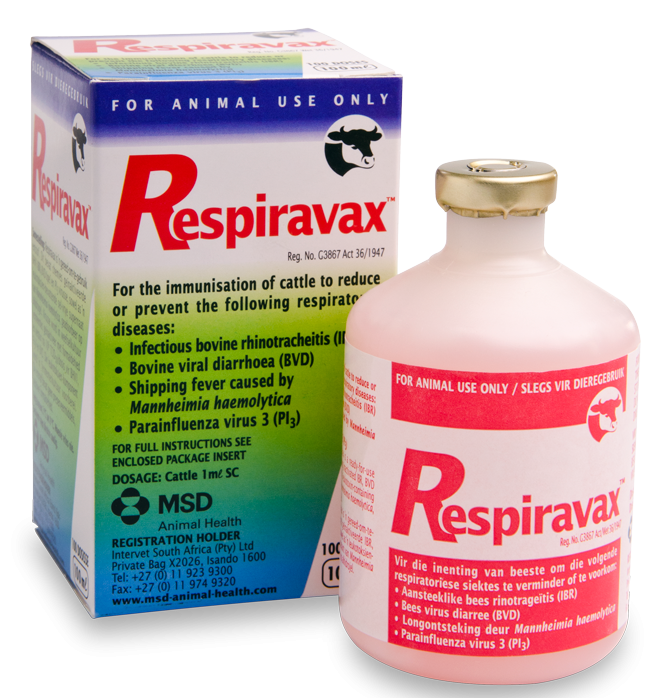 FOR ANIMAL USE ONLY
RESPIRAVAX
Reg. No. G3867 (Act 36/1947)
Namibia Reg. No. V10/24.4/719 [NS0]
INDICATIONS
Respiravax is an inactivated vaccine for the prophylactic immunisation of calves and pregnant cows as an aid in reducing or preventing bovine respiratory disease caused by Bovine Herpes Virus 1 (IBRV), Bovine Viral Diarrhoea Virus type 1 (BVDV), Parainfluenza Virus type 3 (PI3V) and Mannheimia (Pasteurella) haemolytica.
COMPOSITION
Respiravax is a ready-to-use aqueous vaccine containing inactivated BHV 1 (IBR), PI3 and BVD type 1 viruses, as well as a leukotoxin-containing cell-free supernatant of Mannheimia
haemolytica, adsorbed onto alhydrogel. Viruses are propagated in tissue culture, inactivated with formaldehyde and diluted to 106 TCID50 for IBR and PI3 and 105 TCID50 for BVDV per 1 mℓ dose. The leukotoxin component is a dilution of the cell-free supernatant of a 3-hour fermentation culture. The vaccine contains no preservative, other than formaldehyde.
STORAGE
Store between 2 °C and 8 °C.
Do not freeze.
Avoid prolonged or repetitive exposure to high ambient temperatures following withdrawal from the refrigerator.
Protect from direct sunlight.
WARNINGS
Withdrawal period: Do not vaccinate within 21 days prior to slaughter.
Vaccinate healthy animals only.
Anaphylactic reactions, although rare, may occur.
Should an allergic reaction occur, intramuscular adrenalin should be administered.
Do not store partially used containers for future use and use the entire contents within 10 hours of opening.
Destroy any unused vaccine and dispose of all vaccine containers according to local waste disposal regulations, after vaccination.
KEEP OUT OF REACH OF CHILDREN, UNINFORMED PERSONS AND ANIMALS.
Although this vaccine has been extensively tested under a variety of conditions, failure thereof may ensue for a wide range of reasons. If this is suspected, seek veterinary advice and notify the registration holder.
PRECAUTIONS
Follow aseptic procedures. Ensure that vaccination equipment (syringes, needles etc.) is clean and sterile before use.
Ensure that all equipment is kept clean and sterile during vaccination.
Avoid intravenous injection.
Keep the vaccine cool and avoid exposure to direct sunlight and high temperatures during inoculation.
When handling the vaccine, it is good vaccination practice to avoid contact with the eyes, hands and clothing.
DIRECTIONS FOR USE – USE ONLY AS DIRECTED
MAY BE USED DURING PREGNANCY AND LACTATION.
Vaccinate healthy cattle only.
Suspend the contents of the vial by gentle end-over-end mixing the vial at least 6 times.
Dosage
Inject 1 mℓ per animal subcutaneously.
Recommendations for use
Vaccinate pregnant cows 6 to 8 weeks before calving.
Cows that have not previously been vaccinated with Respiravax should receive a booster dose (1 mℓ) after 4 weeks, i.e. 3 to 4 weeks before calving.
Calves from vaccinated cows should be vaccinated from 3 months of age.
Calves from unvaccinated cows may be vaccinated at any age.
A booster vaccination should be given after 4 weeks and then annually.
Immunity starts to develop about 10 days after immunisation and animals should be protected after 3 weeks (complete protection cannot be guaranteed in all animals).
PRESENTATION
Vials containing 10 mℓ (10 doses), 20 mℓ (20 doses) and 100 mℓ (100 doses).
Not all pack sizes may necessarily be marketed.
REGISTRATION HOLDER MANUFACTURER
Intervet South Africa (Pty) Ltd. Design Biologix CC.
20 Spartan Road, Spartan
1619, RSA
Tel: +27 (0) 11 923 9300
E-mail: msdahza@msd.com
DATE OF PUBLICATION OF PACKAGE INSERT
30 July 2012