What is an "Approved vaccine distributor"?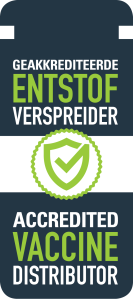 The Approved Vaccine Distributor program is a framework to ensure the cold chain is maintained from supplier to end-user.
The Promise of an Approved Vaccine Distributor to You
We only accept vaccine suitably packed to ensure that the cold chain is maintained
We ensure that our vaccines are correctly stored. Our fridge temperatures are monitored daily.
We will only dispatch vaccine to you packed in a suitable cooler with a frozen ice pack.
Peace of Mind for Effective Vaccination

To locate the nearest approved distributor click on province name in left navigation.