Nobilis® ND Broiler is an inactivated vaccine intended for the active immunisation of 1-day-old broiler chicks against Newcastle Disease.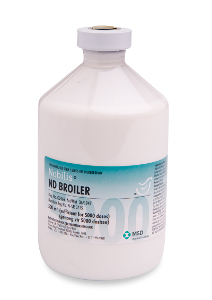 FOR ANIMAL USE ONLY
NOBILIS® ND BROILER
Reg. No. G2469 (Act 36/1947)
Namibia Reg. No. V98/24.3/676 NS0
Newcastle disease is a notifiable disease in terms of the Animal Diseases Act (Act35/1984). The occurrence of suspicion of this disease has to be reported to the responsible state Veterinarian.
INDICATIONS
Nobilis® ND Broiler is an inactivated vaccine intended for the active immunisation of 1-day-old broiler chicks against Newcastle Disease.
COMPOSITION
Each 0,1 mℓ dose of Nobilis® ND Broiler contains ≥ 20 PD50 units of inactivated Newcastle Disease virus (the Newcastle Disease virus antigen induces ≥ 4 log2 HI units per 1/50 dose). The virus is inactivated with formalin and suspended in the aqueous phase of a water-in-oil emulsion.
STORAGE
Store in the dark between 2 °C and 8 °C.
Do not freeze.
Avoid prolonged or repetitive exposure to high ambient temperatures following withdrawal from the refrigerator prior to use.
Protect from direct sunlight.
WARNINGS
Withdrawal period: Do not market chickens for slaughter purposes for at least 6 weeks after vaccination.
Ensure that chickens marketed do not have swellings at the vaccination site, as this may result in the condemnation of the chickens.
Do not freeze or heat.
Do not mix Nobilis® ND Broiler with other vaccines, except when administered simultaneously with live Newcastle Disease vaccines.
Vaccination of chickens in production may lead to a slight drop in egg production.
Accidental self-injection may lead to a severe local allergic reaction. Consult a physician informing him/her that the vaccine contains a mineral oil.
Do not store partially used bottles for future use and use the entire contents once the vaccine has been opened. After opening, the contents of the bottle should be used within 3 hours. Opened bottles not used should be destroyed.
Dispose of any unused vaccine as well as all empty vaccine containers and vaccination equipment according to local waste disposal regulations.
KEEP OUT OF REACH OF CHILDREN, UNINFORMED PERSONS AND ANIMALS.
Although this vaccine has been extensively tested under a large variety of conditions, failure thereof may ensue as a result of a wide range of reasons. If this is suspected, seek veterinary advice and notify the registration holder.
PRECAUTIONS
Vaccinate healthy chickens only.
Observe aseptic precautions. Ensure that all vaccination equipment (needles, syringes, etc.) are clean and sterile prior to and during use.
Avoid intravenous injection.
It is essential to adhere to the vaccination programme to maintain a satisfactory immune response.
It is good vaccination practice to avoid contact with the eyes, hands and clothing when handling the vaccine.
DIRECTIONS FOR USE – USE ONLY AS DIRECTED
Shake well before use and at regular intervals during the vaccination process.
Recommended Vaccination Programme
Nobilis® ND Broiler is administered by injection to 1-day-old chickens, in combination with a live Newcastle Disease vaccine (e.g. Nobilis® ND Clone 30 G2466), administered according to the manufacturer's instructions. The chickens vaccinated in this way will be protected against Newcastle Disease for up to 8 to 9 weeks of age.
Dosage and Administration
Inject 0,1 mℓ per broiler chicken intramuscularly into the thigh, or subcutaneously into the back of the neck.
Allow the vaccine to gradually reach room temperature (20 ºC to 25 ºC) prior to use.
Remove the aluminium overseal and the vaccine is ready for use.
Inject all the chickens in the flock.
VACCINATION REACTIONS
In healthy chickens no clinical reaction to the vaccination will be observed. For some weeks after vaccination a slight swelling may be felt at the site of injection. This does not constitute permanent damage of the tissue, provided the vaccination has been carried out aseptically.
No interactions have been found when administered simultaneously with live Newcastle Disease vaccines.
PRESENTATION
Bottles containing 500 mℓ sufficient for 5 000 doses, packed in outer cardboard cartons.
REGISTRATION HOLDER
Intervet South Africa (Pty) Ltd.
20 Spartan Road, Spartan
1619, RSA
Tel: +27 (0) 11 923 9300
Fax: +27 (0) 11 392 3158
www.msd-animal-health.co.za
MANUFACTURER
Intervet International B.V.
35 Wim de Körverstraat
Boxmeer, The Netherlands
DATE OF PUBLICATION OF THIS PACKAGE INSERT
July 2003