Combined botulism and blackquarter (Quarter Evil) vaccine for the active immunisation of cattle, sheep and goats against botulism and blackquarter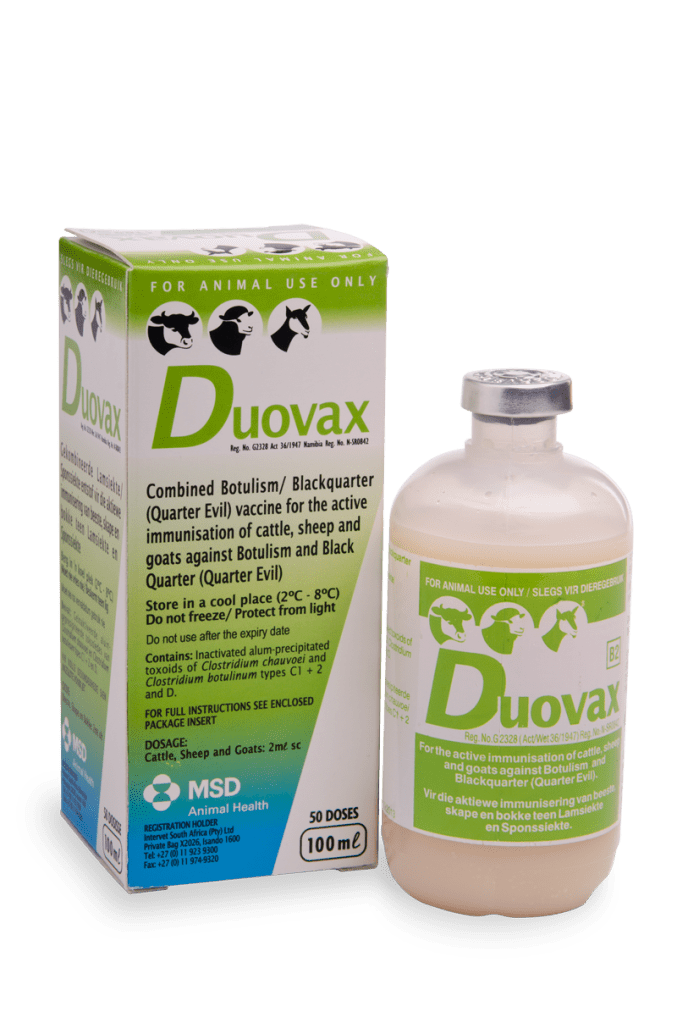 FOR ANIMAL USE ONLY
DUOVAX
Reg. No. G2328 (Act 36/1947)
Namibia Reg. No. V96/24.4/506 [NS0]
INDICATIONS
Combined botulism and black quarter (quarter evil) vaccine for the active immunisation of cattle, sheep and goats against botulism and black quarter (quarter evil).
COMPOSITION
Duovax is a colourless liquid with an off-white precipitate which resuspends on shaking. It contains formalinised, inactivated alum-precipitated toxoids of Clostridium chauvoei and Clostridium botulinum types C1 + 2 and D.
IMMUNITY
In all animals, immunised for the first time, immunity develops 2 weeks after the second injection. Immunity can, however, not be guaranteed in all animals.
STORAGE INSTRUCTIONS
Store between 2 ˚C – 8 ˚C in a refrigerator.
Do not freeze.
Protect from light.
Do not use after expiry date.
WARNINGS
Withdrawal period: Do not slaughter animals for human consumption within 21 days of vaccination.
Goats should be vaccinated in the loose skin under the tail. Do not vaccinate goats in the neck.
KEEP OUT OF REACH OF CHILDREN, UNINFORMED PERSONS AND ANIMALS.
Although this vaccine has been extensively tested under a large variety of conditions, failure thereof may ensue as a result of a wide range of reasons. If this is suspected, seek veterinary advice and notify the registration holder.
PRECAUTIONS
Observe aseptic precautions. Ensure that vaccination equipment (needles, syringes, etc.) is clean and sterile prior to and during use.
Sterilise syringes and needles by boiling in water for at least 15 minutes.
Do not use disinfectants or methylated spirits for sterilising either needles or syringes.
Use a separate needle for each animal.
Occasionally, some individual farm animals, on certain farms, may show shock reactions shortly after injection of the vaccine.
A small swelling may occur at the site of inoculation.
Avoid exposure to high temperatures and direct sunlight during inoculation.
Partially used containers should be disposed of at the end of each day's operation since under field conditions, it may be difficult to avoid accidental contamination of the vaccine.
Destroy any unused vaccine and dispose of all the empty vaccine containers and disposable equipment after use in accordance with National Environmental Management: Waste Act, 2008 (Act No. 59 of 2008).
DIRECTIONS FOR USE – USE ONLY AS DIRECTED
Shake the bottle well each time before filling the syringe.
DOSAGE
Cattle, sheep and goats: 2 mℓ subcutaneously (goats should be vaccinated in the loose skin underneath the tail).
Calves should be immunised before they are weaned i.e., at 4 to 5 months and a second injection must be administered 4 to 6 weeks later.
Lambs and kids can be immunised from 3 months of age and a second injection must be administered 4 to 6 weeks later.
After these 2 initial injections, every animal must receive a single booster injection annually.
PRESENTATION
100 mℓ bottle (50 doses).
REGISTRATION HOLDER
Intervet South Africa (Pty) Ltd.
20 Spartan Road
Spartan
1619, RSA.
Tel: +27 (0) 11 923 9300
E-mail: msdahza@msd.com
DATE OF PUBLICATION OF THIS PACKAGE INSERT
23 June 2017
Zimbabwe Reg. No.: 2001/80.23.17/9563
Pharmacological Classification: 80.23.17 vaccines (other species)
Category for Distribution: VMGD