Anticoccidial agent for the treatment of Coccidiosis in cattle, sheep and goats.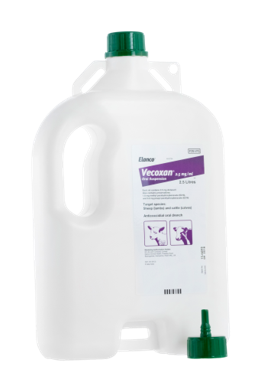 FOR ANIMAL USE ONLY
VECOXAN®
Oral Suspension
Reg. No. G1405 (Act 36/1947)
TREATS COCCIDIOSIS IN CATTLE, SHEEP AND GOATS.
INDICATIONS
Anticoccidial agent for the treatment of Coccidiosis in cattle, sheep and goats.
CAUTION
COMPOSITION
Diclazuril 2,5 mg/mℓ
STORAGE INSTRUCTIONS
Store below 30 °C.
WARNINGS
FOR ANIMAL USE ONLY.
Withdrawal periods: DO NOT SLAUGHTER ANIMALS INTENDED FOR HUMAN CONSUMPTION DURING TREATMENT AND FOR 24 HOURS AFTER LAST TREATMENT.
THE MILK OF CATTLE OR MILK GOATS TREATED WITH Vecoxan® SHOULD NOT BE USED FOR HUMAN CONSUMPTION.
Handle with care.
Keep out of reach of children, uninformed persons and animals.
Although this remedy has been extensively tested under a large variety of conditions, failure thereof may ensue as a result of a wide range of reasons. If this is suspected, seek veterinary advice and notify the registration holder.
PRECAUTIONS
If there is no recent and confirmed history of clinical coccidiosis, the presence of coccidiosis in the flock or herd should be established by means of faecal sampling prior to treatment.
In certain cases, only a transient decrease in oocyst shedding may be achieved in calves
Treat all exposed lambs in the flock, or calves in the herd.
Additional supportive therapy may be necessary to alter the course of an established clinical infection in individual animals already showing signs of diarrhoea.
As coccidiosis may be indicative of inadequate flock or herd hygiene, measures should be taken to improve hygiene.
Frequent and repeated use of antiprotozoal agents may lead to the development of resistance in the target parasite.
As with all oral remedies it is advisable to ensure that animals have been immunized against pulpy kidney disease before drenching.
Prevent contamination of food, food utensils, water sources etc.
Wash hands thoroughly after use.
Dispose of all empty container in accordance with local waste disposal regulations and do not reuse for any other purpose.
DIRECTION FOR USE – USE ONLY AS DIRECTED
SHAKE WELL BEFORE USE.
Vecoxan® is suitable for use in cattle, sheep and goats irrespective of age, sex, condition or stage of pregnancy and under all normal practices of management, nutrition and mating.
To ensure correct dosage, body weight should be determined as accurately as possible.

Recommended dose
1 mg Diclazuril per kg body mass as a single oral dose. (This is equivalent to 1 mℓ Vecoxan®Oral suspension per 2,5 kg body mass)
Cattle
Depending on the bodyweight of the animal, practical dosing is as follows:
Body mass (kg)
Dose (mℓ)
No. of doses in pack
1 ℓ
2 ℓ
2,5 ℓ
5 ℓ
50
20
50
100
125
250
60
24
41
83
104
208
70
28
35
71
89
178
80
32
31
62
78
156
90
36
27
55
69
138
100
40
25
50
62
125
110
44
22
45
56
113
120
48
20
41
52
104
130
52
19
38
48
96
140
56
17
35
44
89
150
60
16
33
41
83
etc.
Sheep
Depending on the bodyweight of the animal, practical dosing is as follows:
Body mass (kg)
Dose (mℓ)
No. of doses per pack
1 ℓ
2 ℓ
2,5 ℓ
5 ℓ
5
2
500
1 000
1 250
2 500
10
4
250
500
625
1 250
15
6
166
333
416
833
20
8
125
250
312
625
25
10
100
200
250
500
30
12
83
166
208
416
35
14
71
142
178
357
EFFICACY
Diclazuril is a benzeneacetonitrile agent with anticoccidial action against Eimeria species. Depending on the species, Diclazuril has coccidiocidal efficacy against the asexual or sexual stages of the parasite development cycle. Diclazuril treatment has only limited effect on the intestinal lesions caused by parasitic stages older than 16 weeks.
Treatment with Diclazuril causes interruption of the coccidial life cycle and of oocyst secretion for approximately 2 weeks after administration. Treatment with VECOXAN® therefore bridges the period of decreased maternal immunity observed at approximately 4 weeks of age.
Vecoxan® is effective in cattle against E. Bovis and E. zuernii, and in sheep against Eimeria parva, E. ovina, E. ovinoidalis, E. ahsata, E. arloingi, E. pallida, E. faurei and E. crandallis.
PRESENTATION
White suspension in White high density polyethylene (HDPE) drench flask Tamper evident high density polyethylene (HDPE) closure, nozzle closure and screw cap a plastic bottle containing 200 mℓ, 1 ℓ, 2 ℓ, 2,5 ℓ, or 5 ℓ.
REGISTRATION HOLDER
Intervet South Africa (Pty) Ltd.
20 Spartan Road
Spartan, 1619, RSA
Tel: +27 (0) 11 923 9300
Fax: +27 (0) 11 392 3158
www.msd-animal-health.co.za