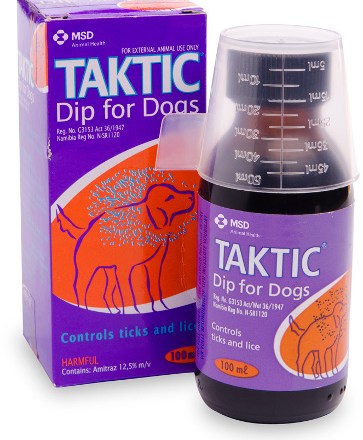 TAKTIC® DIP FOR DOGS is a wash dip used to control ticks and lice on dogs.
FOR EXTERNAL ANIMAL USE ONLY
TAKTIC® DIP FOR DOGS
Reg. No. G3153 (Act 36/1947)
Namibia Reg. No. V03/18.3.4/255 NS0
INDICATIONS
Controls ticks and lice.
COMPOSITION
Contains: Amitraz 12,5 % m/v
HARMFUL
STORAGE
Store in a cool, dry place below 25 °C.
WARNINGS
Do not use on Chihuahuas.
Do not use on dogs suffering from heat stress.
Do not use on cats.
May be used on pregnant and lactating bitches.
Discard any unused mix and empty containers as per local waste disposal regulations and do not reuse for any other purpose.
KEEP OUT OF REACH OF CHILDREN, UNINFORMED PERSONS AND ANIMALS.
Although this remedy has been extensively tested under a large variety of conditions, failure thereof may ensue as a result of a wide range of reasons. If this is suspected, seek veterinary advice and notify the registration holder.
PRECAUTIONS
For use on dogs only.
Wear rubber gloves when diluting and using the dip wash.
Avoid contact with dip and wash immediately and thoroughly with soap and hot water after accidental contamination.
Protect Taktic® Dip for Dogs from extreme heat and cold and from dampness.
Tightly reseal the container if all the contents have not been used.
DIRECTIONS FOR USE – USE ONLY AS DIRECTED
FOR EXTERNAL USE ON DOGS ONLY
Taktic® Dip for Dogs should not be mixed with any other dip.
This dip wash must be freshly prepared prior to use.
Dog(s) dipped should not be rinsed after the coat has been saturated and should be allowed drip-dry naturally.
MIXING INSTRUCTIONS
Mix the required volume of Taktic® Dip for Dogs with the specified volume of lukewarm water in a plastic bucket.
| | | |
| --- | --- | --- |
| | Taktic® Dip for Dogs | Water (lukewarm) |
| Ticks and lice | 10 mℓ | 10 ℓ |
Ticks and Lice: Repeat treatment as necessary.
PRESENTATION
100 mℓ bottles.
REGISTRATION HOLDER
Intervet South Africa (Pty) Ltd.
20 Spartan Road, Spartan
1619, RSA
Tel: +27 (0) 11 923 9300
Fax: +27 (0) 11 392 3158
www.msd-animal-health.co.za
MANUFACTURER
Nulandis
14 Field Street
Lilianton, Boksburg
DATE OF PUBLICATION OF THIS PACKAGE INSERT
19 November 2002