Long-acting oxytretracycline for the treatment and control of conditions caused by, or associated with oxytetracycline susceptible organisms.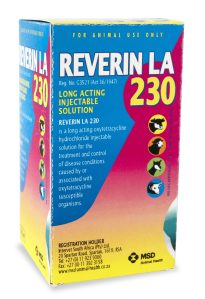 FOR ANIMAL USE ONLY
REVERIN LA 230
Reg. No. G3521 (Act 36/1947)
Long-acting injectable solution
INDICATIONS
Reverin LA 230 isindicated for the treatment and control of conditions caused by or associated with oxytetracycline susceptible organisms. Its long action is recommended for veterinary, practical or economic reasons if it is not possible or desirable to handle and treat the animal more frequently.
Cattle
For the treatment of tick-borne gallsickness (anaplasmosis), heartwater, pneumonia, foot rot, joint-ill and navel-ill.
Sheep and Goats
For the treatment of heartwater, pneumonia, foot rot, joint-ill and navel-ill.
Pigs
For the treatment of pneumonia, foot rot, joint-ill and navel-ill.
COMPOSITION
A clear, sterile, stable and ready-to-use injection which provides sustained blood level concentrations for 3 to 5 days following one intramuscular injection of 1 mℓ/10 kg body mass. Each 1 mℓ contains 230 mg oxytetracycline hydrochloride (23 % m/v).
STORAGE
Store in a cool dark place at or below 30 °C.
As with other oxytetracycline solutions, darkening may occur during use, this does not reduce the potency of the product.
WARNINGS
Withdrawal period: Do not slaughter animals for human consumption within 28 days of last treatment. Do not use milk for human consumption within 5 days of last treatment.
Use Reverin LA 230 only in cattle, sheep, goats and pigs.
DO NOT ADMINISTER REVERIN LA 230 TO PIGLETS ON THE SAME DAY THAT THEY ARE INJECTED WITH IRON.
Dispose of any empty containers, disposable equipment and any other waste after use, in accordance with National Environmental Management: Waste Act, 2008 (Act No. 59 of 2008).
KEEP OUT OF REACH OF CHILDREN, UNINFORMED PERSONS AND ANIMALS.
Although this product has been extensively tested under a large variety of conditions, failure thereof may ensue as a result of a wide range of reasons. If this is suspected, seek veterinary advice and notify the registration holder.
DIRECTIONS FOR USE – USE ONLY AS DIRECTED
Dosage
Reverin LA 230 is designed for single intramuscular injection at 1 mℓ/10 kg body mass which gives a dosage of 23 mg oxytetracycline hydrochloride per kg live mass.
If the product is used intravenously, no long-acting effect will be achieved.
Normally one injection is sufficient to treat diseases mentioned above.
A second injection at 72 hours (3 days) after the initial injection may be given if necessary. Treatment should always be continued until total recovery.
For adult animals, it is recommended that the dose be split and given at 2 injection sites.
Cattle – not more than 20 mℓ per injection site.
Pigs – not more than 10 mℓ per site.
Sheep and goats – not more than 5 mℓ per site.
For pigs under 10 kg, it is preferable to inject subcutaneously. This route is not preferred for other animals as it may cause some swelling.
Administration
Injection in the neck is preferable to the rump, as this tends to give higher antibiotic blood levels and causes less tissue damage.
Inject deep into the fleshy part of the muscle. Temporary discomfort may be caused by intramuscular injections; massaging the site of injection will reduce discomfort and will help to disperse the antibiotic at the site of injection.
N.B. For rapid recovery a prompt and accurate diagnosis is essential. It is, therefore, always advisable to consult your veterinarian for a correct diagnosis.
SIDE EFFECTS AND SPECIAL PRECAUTIONS
Hypersensitivity reactions are known to occur with the use of certain classes of antibiotics. These reactions can range from mild, transient skin reactions to fatal anaphylactoid shock. If administered to an animal that is hypersensitive, anaphylactic shock may occur.
Adrenaline, corticosteroids and antihistamines should be administered to treat anaphylaxis.
If known hypersensitivity exists in an individual or group of animals, this product should be used with caution and only after consulting with a veterinarian.
Use of injectable medicinal preparations may result in localised tissue reactions and temporary swelling at the injection site. Treatment is symptomatic and supportive.
Natural bacterial resistance may develop to antibiotic preparations. If this is suspected please consult with your veterinarian.
PRESENTATION
20 mℓ, 25 mℓ and 40 mℓ ready-to-use polyethylene syringes in packed in a carton box.
100 mℓ amber multi-dose glass vial of closed with a chlorobutyl stopper and aluminium cap in a carton box.
100 mℓ, 500 mℓ and 1 ℓ polyethylene vial closed with chlorobutyl stoppers and a plunger with Alu-cap packed in a carton box.
Not all the pack sizes may necessarily be marketed.
REGISTRATION HOLDER MANUFACTURER
Intervet South Africa (Pty) Ltd. Burchem Research (Pty) Ltd.
20 Spartan Road, Spartan 54 Electron Avenue
1619, RSA Isando
Tel: +27 (0) 11 923 9300
E-mail:msdahza@msd.com
www.msd-animal-health.co.za
DATE OF PUBLICATION OF THIS PACKAGE INSERT
28 November 2019