A growth promotant with slow release of active principle which induces the increased laying down of lean meat without increasing fat deposition.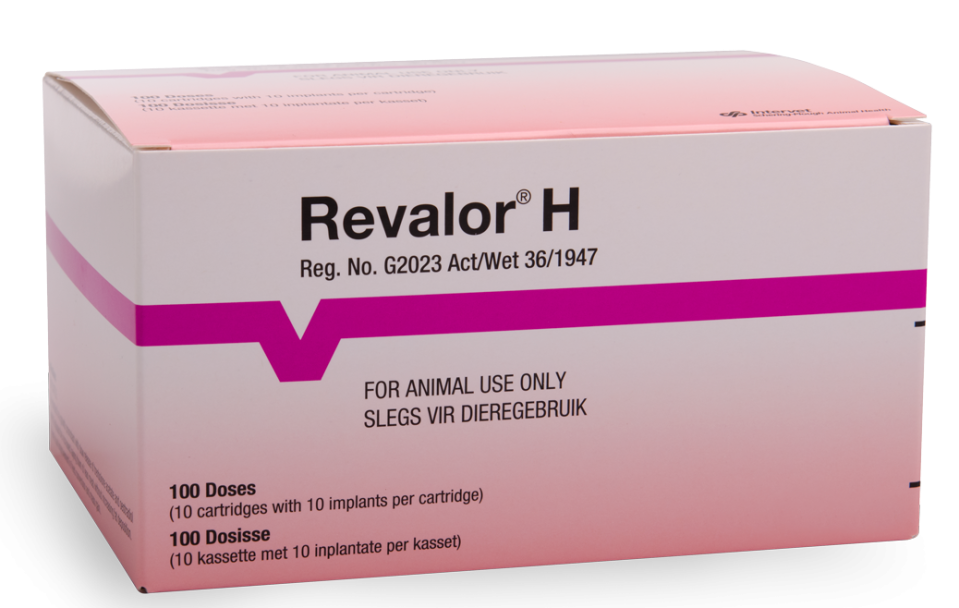 FOR ANIMAL USE ONLY
REVALOR® H
Reg. No. G2023 (Act 36/1947)
INDICATIONS
For cattle
Revalor® H is a growth promotant with slow release of trenbolone acetate and oestradiol which induces the increased laying down of lean meat without increasing fat deposition. There is an improvement in feed conversion and mass gain.
COMPOSITION
Each implant contains: 200 mg trenbolone acetate and 20 mg ß-oestradiol.
STORAGE
Store unopened product at or below 25 °C.
Avoid excessive heat and humidity.
Use product before the expiry date.
WARNINGS
Withdrawal period: Zero days.
ONLY FOR USE IN HEIFERS AND STEERS IN FEEDLOTS.
DO NOT USE IN ANIMALS INTENDED FOR BREEDING PURPOSES.
Handle with care. Harmful if swallowed.
Implant pellets behind ear only. Do not use implant site for human or animal consumption.
Store away from food and feed.
Dispose of any empty containers/cartridges according to local waste disposal regulations and do not reuse for any other purpose.
KEEP OUT OF REACH OF CHILDREN, UNINFORMED PERSONS AND ANIMALS.
Although this remedy has been extensively tested under a large variety of conditions, failure thereof may ensue as a result of a wide range of reasons. If this is suspected, seek veterinary advice and notify the registration holder.
DIRECTIONS FOR USE – USE ONLY AS DIRECTED
A cartridge consists of 10 implants each containing 10 small tablets. A single implant is placed under the skin by means of a special implanter. (Refer to implanter instructions).
Site of implantation
After appropriately restraining the animal to allow access to the ear, cleanse the skin at the implant needle puncture site.
The site of implantation is the soft skin on the posterior aspect of the ear.
The implant should be placed as far from the head as possible without inserting the implanter into the area where the skin is firmly attached to the cartilage.
THE IMPLANT MUST NOT BE PLACED CLOSER TO THE HEAD THAN THE EDGE OF THE CARTILAGE RING FARTHEST FROM THE HEAD.
The location of insertion of the needle is a point toward the tip of the ear and at least a needle length away from the intended deposition site.
Care should be taken to avoid injuring the major blood vessels or cartilage of the ear.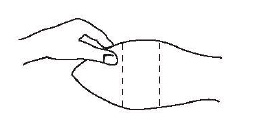 PRESENTATION
Contains 100 doses in 10 cartridges with 10 implants per cartridge.
MANUFACTURER
Intervet GesmbH
Siemensstrasse 105
A-1210 Vienna
Austria
REGISTRATION HOLDER
Intervet South Africa (Pty) Ltd.
20 Spartan Road, Spartan,
1619, RSA
Tel: +27 (0) 11 923 9300
Fax: +27 (0) 11 392 3158
www.msd-animal-health.co.za
DATE OF PUBLICATION OF THIS PACKAGE INSERT
7 November 2014