For the active immunisation of sheep against pulpy kidney disease (enterotoxaemia).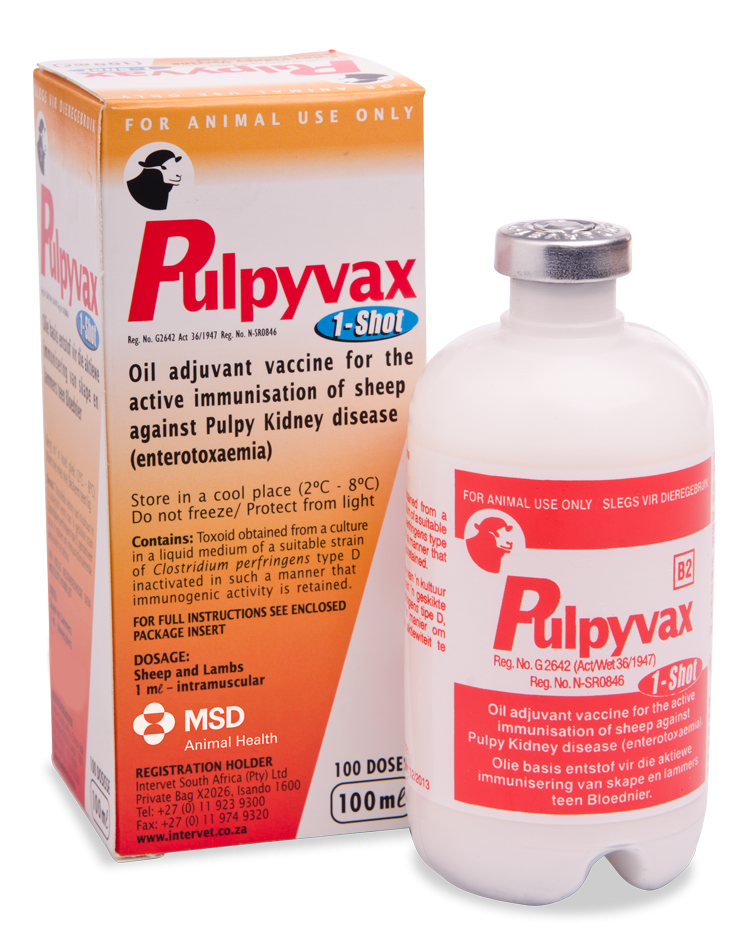 FOR ANIMAL USE ONLY
PULPYVAX® 1-SHOT
Reg. No. G2642 (Act 36/1947)
Namibia Reg. No. V99/24.4/500 [NS0]
INDICATIONS
For the active immunisation of sheep against pulpy kidney disease (enterotoxaemia). The active component, when injected into a healthy, susceptible animal, stimulates the immune response and provokes the formation of epsilon antitoxin.
COMPOSITION
Contains a toxoid obtained from a culture in a liquid medium of a suitable strain of Clostridium perfringens type D, inactivated in such a manner that immunogenic activity is retained.
STORAGE INSTRUCTIONS
Store between 2 ºC – 8 ºC in a refrigerator.
Do not freeze.
Protect from light.
WARNINGS
Withdrawal period: Do not slaughter animals for human consumption within 21 days of vaccination.
Some animals may develop a transient inflammatory reaction over the injection site, which is normal following vaccination with an oily vaccine.
In case of inoculation in the hind quarters, a slight limp could arise ± 2 days after injection and disappear 2 to 3 days later. A moderate rise in temperature may also follow vaccination.
As with all vaccines, occasional hypersensitivity reactions may occur. In such cases, appropriate treatment such as adrenaline and/or antihistamines should be administered without delay.
KEEP OUT OF REACH OF CHILDREN, UNINFORMED PERSONS AND ANIMALS.
Although this vaccine has been extensively tested under a large variety of conditions, failure thereof may ensue as a result of a wide range of reasons. If this is suspected, seek veterinary advice and notify the registration holder.
PRECAUTIONS
Observe aseptic precautions. Ensure that vaccination equipment (needles, syringes, etc.) is clean and sterile prior to and during use.
Partially used containers should be disposed of at the end of each day's operation since under field conditions, it may be difficult to avoid accidental contamination of the vaccine.
Destroy any unused vaccine and dispose of all the empty vaccine containers and disposable equipment after use in accordance with National Environmental Management: Waste Act, 2008 (Act No. 59 of 2008).
DIRECTIONS FOR USE – USE ONLY AS DIRECTED
Shake bottle well before use and repeat from time to time during the vaccination process.
Only sterile needles and properly sterilised vaccinator should be used. In order to maintain a proper hygiene, it is advisable to change to clean sterile needles as frequently as possible.
The vaccine should be administered by deep intramuscular injection.
Sheep should first be vaccinated at 4 months of age and annually thereafter.
In order to ensure a proper inoculation, it is preferable to inject the vaccine while fleece is short.
Immunity is established within 2 to 3 weeks after inoculation and lasts for 1 year.
Lambs born from ewes vaccinated 10 to14 days before lambing are protected for 12 to 16 weeks by the antibodies passed in the colostrum.
As usual with all vaccines, absolute immunity cannot be guaranteed in all animals. Therefore, it is advisable to consult a veterinarian regarding additional control measures, instead of relying on the vaccine alone.
DOSAGE
Sheep and lambs: 1 mℓ intramuscular.
PRESENTATION
An oily off-white, slightly flocculating liquid which resolves immediately on shaking.
Packed in 100 mℓ polypropylene containers.
REGISTRATION HOLDER
Intervet South Africa (Pty) Ltd.
20 Spartan Road, Spartan
1619, RSA
Tel: +27 (0) 11 923 9300
E-mail: msdahza@msd.com
www.msd-animal-health.co.za         
DATE OF PUBLICATION OF THIS PACKAGE INSERT
10 November 2000