Inactivated vaccine emulsion for intradermal injection for pigs.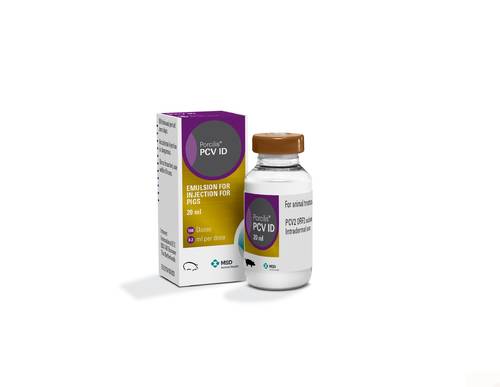 FOR ANIMAL USE ONLY
PORCILIS® PCV ID
Reg. No. G4355 (Act 36/1947)
Inactivated vaccine emulsion for intradermal injection for pigs.
INDICATIONS
For the active immunisation of pigs to reduce viraemia, virus load in lungs and lymphoid tissues and virus shedding, caused by PCV2 infection. In addition, to reduce loss of daily weight gain and mortality associated with PCV2 infection.
IMMUNITY
Onset of immunity: 2 weeks after vaccination.
Duration of immunity: 23 weeks after vaccination.
COMPOSITION
Each dose of 0,2 mℓ contains:
Porcine circovirus type 2 ORF2 subunit antigen ≥1 436 AU1
dl-α-tocopheryl acetate 0,6 mg
Light liquid paraffin 8,3 mg
1Antigenic units as determined in the in vitro antigenic mass assay.
STORAGE
Store between 2 °C and 8 °C.
Do not freeze.
Protect from direct sunlight.
Do not use after the expiry date which is stated on the label.
In-use shelf life after opening the vial: 8 hours when stored between 2 °C and 8 °C.
WARNINGS
Withdrawal period: 21 days.
Vaccinate healthy animals only.
Do not mix with any other vaccine or veterinary medicinal product, except for those as described under "INTERACTIONS".
Transient local reactions, mostly consisting of hard non-painful swellings of a diameter of up to 2 cm are very common. A biphasic pattern of the local reactions, consisting of an increase and decrease, followed by another increase and decrease of the size, is commonly observed. In individual pigs the size may increase to 4 cm and redness may be observed. The local reactions disappear completely within approximately 5 weeks after vaccination.
Do not store partially used vaccine vials for future use.
Destroy any unused vaccine, empty vaccine vials, needles etc. in accordance with local waste disposal regulations after completion of vaccination.
KEEP OUT OF REACH OF CHILDREN, UNINFORMED PERSONS AND ANIMALS.
Although this remedy has been extensively tested under a large variety of conditions, failure thereof may ensue as a result of a wide range of reasons. If this is suspected, seek veterinary advice and notify the registration holder.
PRECAUTIONS
Special precautions to be taken by the person administering Porcilis® PCV ID to animals
To the user
Observe aseptic precautions. Ensure that vaccination equipment is clean and sterile before and during use.
It is good vaccination practice when handling the vaccine to avoid contact with the eyes, hands and clothing.
Do not use vaccination equipment with rubber parts, as the excipient may damage certain types of rubber.
Porcilis® PCV ID contains mineral oil. Accidental injection/self-injection may result in severe pain and swelling, particularly if injected into a joint or finger, and in rare cases could result in the loss of the affected finger if prompt medical attention is not given. If you are accidentally injected with this product, seek prompt medical advice even if only a very small amount is injected and take the package leaflet with you. If pain persists for more than 12 hours after medical examination, seek medical advice again.
To the physician
Porcilis® PCV ID contains mineral oil. Even if small amounts have been administered, accidental administration with this product can cause intense swelling, which may, for example, result in ischaemic necrosis and even the loss of a digit. Expert, PROMPT, surgical attention is required and may necessitate early incision and irrigation of the administration area, especially where there is involvement of a finger pulp or tendon.
INTERACTIONS
Safety and efficacy data are available which demonstrate that Porcilis® PCV ID can be given with Porcilis® M Hyo ID Once at different injection sites on the same day from 3 weeks of age.
The product literature of Porcilis® M Hyo ID Once should be consulted. In the case both vaccines are used at the same day, the size of the local reactions may increase up to 6 cm in individual pigs and may last 5 weeks. Moreover, a transient increase in body temperature on the day of vaccination of about 0,2 °C is common. In individual pigs this temperature may increase up to 2 °C. The animal's temperature returns to normal within 1 to 2 days after the peak temperature is observed.
No information is available on the safety and efficacy of this vaccine when used with any other veterinary medicinal product. A decision to use this vaccine before or after any other veterinary medicinal product must be made on an individual basis.
DIRECTIONS FOR USE – USE ONLY AS DIRECTED
Dosage and administration
Intradermal administration of 0,2 mℓ per animal, preferably at the sides of the neck, along the muscles of the back or in the hind leg using a multi-dose needle-free injection device for intradermal application of liquids, suitable to deliver a "jet-stream" volume of vaccine (0,2 mℓ ± 10 %) through the epidermal layers of the skin.
Safety and efficacy of Porcilis® PCV ID have been demonstrated using the device IDAL (a revolutionary needle-free vaccination device, that allows intradermal application of swine vaccines).
Vaccination scheme
Vaccinate once from an age of 3 weeks onwards.
Allow the vaccine to reach room temperature before use. Shake well before use.
Avoid multiple broaching of the 10 mℓ vial.
IDENTIFICATION
Homogenous, white to nearly white emulsion after shaking.
PRESENTATION
Glass vial (type I) of 10 mℓ closed with a grey, nitryl-based rubber stopper and sealed with an olive brown aluminium cap.
Clear, PET (polyethylene terephthalate) vial of 20 mℓ, closed with a nitryl-based rubber stopper and sealed with an olive brown aluminium cap.
Pack size:
Cardboard box with 1 or 10 glass vials.
Cardboard box with 1 or 10 PET vials.
Not all pack sizes may be marketed.
REGISTRATION HOLDER                               
Intervet South Africa (Pty) Ltd.
20 Spartan Road
Spartan, 1619, RSA
Tel: +27 (0) 11 923 9300
Fax: +27 (0) 11 392 3158
www.msd-animal-health.co.za
DATE OF PUBLICATION OF PACKAGE INSERT
29 July 2019