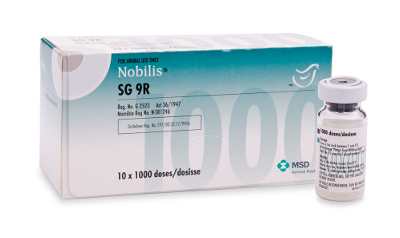 A live freeze-dried vaccine, indicated for the active immunisation of healthy layers as an aid in the control of Salmonellagallinarum (Sg) (fowl typhoid).
FOR ANIMAL USE ONLY
NOBILIS® SG 9R
Reg. No. G2523 (Act 36/1947)
Namibia Reg. No. V05/24.3/454 S0
Indications
A live, freeze-dried vaccine for the active immunisation of healthy layers as an aid in the control of Salmonella gallinarum (fowl typhoid).
Storage
Store in the dark between 2 °C and 8 °C. Do not freeze.
Shelf Life: 12 months if stored at between 2 °C and
8 °C.
Avoid prolonged or repetitive exposure to high ambient temperatures following withdrawal from the refrigerator prior to use.
Protect from exposure to direct sunlight.
Diluent Poultry Freeze-dried: Store at room temperature (20 °C to 25 °C) prior to use.
Composition
NOBILIS® SG 9R is a live freeze-dried vaccine based on the Salmonella gallinarum strain 9R. The freeze-dried pellet contains a stabiliser. Each 0,2 ml dose contains at least 2 x 107 CFU of F strain 9R.
Warnings
Do not freeze.
Initial vaccination should be carried out at 6 weeks of age.
The use of antibiotics or other substances with a systemic action should be avoided from 7 days before vaccination to 14 days after vaccination.
It is advisable to vaccinate all the susceptible fowls on the farm at the same time. If this is not feasible, strict separation of the vaccinated and the unvaccinated fowls should be done to prevent the spread of the vaccine organisms to the unvaccinated fowls.
Rough pathogenic field strains, where isolated, can interfere with diagnostic tools for differentiation of S. gallinarum field strains from the vaccine strain.
The vaccine strain may be isolated for a prolonged period of time from post mortem material depending on the health status of the fowls.
For optimal development of immunity it is recommended not to introduce fowls in an infected environment until 14 days after primary vaccination.
Destroy any unused, reconstituted vaccine, empty vaccine containers, needles etc. for instance by burning after the completion of the vaccination.
Wash and disinfect hands and equipment after vaccinating.
Do not open and reconstitute the vaccine until ready to start vaccination.
Use the vaccine immediately after reconstitution.
Each vial must be used within 2 hours after reconstitution.
Do not store partially used containers for future use.
Use according to the number of doses as indicated on the label.
Accidental injection of a by-stander or self-vaccination may lead to severe local reaction. Consult a physician.
KEEP OUT OF REACH OF CHILDREN AND UNINFORMED PERSONS.
Although this vaccine has been extensively tested under a large variety of conditions, failure thereof may ensue as a result of a wide range of reasons. If this is suspected, seek veterinary advice and notify the registration holder.
Precautions
Only healthy fowls should be vaccinated.
Observe aseptic precautions. Ensure that all vaccination equipment (needles, syringes, etc.) are clean and sterile prior to use.
The vaccination equipment should be free from traces of disinfectant and spirit.
Ensure that all equipment is kept clean and sterile during use.
Avoid intravenous injection.
It is good vaccination practice when handling the vaccine to avoid contact with eyes, hands and clothes.
Directions for Use
Dosage and Administration
Reconstitute the vaccine with Intervet's "Diluent Poultry freeze-dried".
Each fowl should be given 0,2 ml of the reconstituted vaccine subcutaneously into the lower part of the back of the neck.
Shake the vaccine before use and at regular intervals during the vaccination process.
Use the reconstituted vaccine within 2 hours after reconstitution.
Inject all the fowls in the flock.
Vaccination Scheme
Initial vaccination should be carried out at 6 weeks of age.
Revaccination at intervals of 12 weeks is recommended.
Presentation
Cardboard boxes containing 10 vials of 1 000 doses.
REGISTRATION HOLDER
Intervet South Africa (Pty) Ltd. 
20 Spartan Road, 
Spartan, 1619 
RSA 
Tel: +27 (0) 11 923 9300 
Fax: +27 (0) 11 392 3158 
www.msd-animal-health.co.za
Date of publication of package insert: 02 November 2006