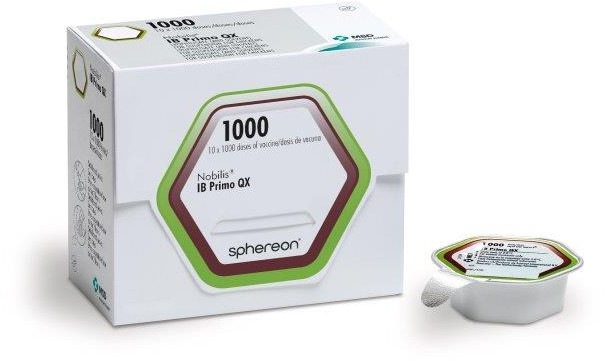 For the active immunisation of chickens from 1 day of age or older to reduce clinical signs of
disease caused by infection with Infectious Bronchitis Virus serotype D388/QX.
FOR ANIMAL USE ONLY
NOBILIS® IB Primo QX
Reg. No. G4211 (Act 36/1947)
Only for use by or under the supervision of persons registered in terms of or authorised in terms of section 23 (1) (c) of the Veterinary and Para-Veterinary Professions Act, 1982 (Act No. 19 of 1982).
INDICATIONS
For the active immunisation of chickens from 1 day of age or older to reduce clinical signs of disease caused by infection with Infectious Bronchitis Virus serotype D388/QX.
Onset of immunity: 3 weeks
Duration of immunity: 8 weeks
CONTRA-INDICATIONS
None.
COMPOSITION
Each dose of reconstituted vaccine contains:
Live Avian Infectious Bronchitis Virus strain D388: > 104,0 EID501.
1EID50 = 50 % Egg Infective Dose.
STORAGE
Vaccine: Store between 2 °C and 8 °C. Do not freeze. Protect from light.
Solvent: Store between 2 °C and 25 °C. Do not freeze.
WARNINGS
Withdrawal period:
Meat: 21 days.
Eggs: Not to be used in chickens that lay eggs for human consumption.
Vaccination may induce a mild transient respiratory reaction lasting a few days, depending on the health and condition of the chickens.
If you notice any serious effects or other effects not mentioned in this package insert, please inform your veterinarian.
KEEP OUT OF REACH OF CHILDREN, UNINFORMED PERSONS AND ANIMALS.
Although this vaccine has been extensively tested under a large variety of conditions, failure thereof may ensue as a result of a wide range of reasons. If this is suspected, seek veterinary advice and notify the registration holder.
PRECAUTIONS
Vaccinate healthy chickens only.
In case of spray administration, personal protective equipment consisting of masks with eye protector should be worn when handling Nobilis® IB Primo QX.
Observe aseptic precautions.
Ensure that the vaccination equipment (spray apparatus, droppers) is clean prior to use.
It is good vaccination practice when handling the vaccine to avoid contact with the eyes, hands and clothing.
Avoid contamination with traces of disinfectant or spirits.
Destroy any unused vaccine, reconstituted vaccine and empty vaccine containers in accordance with local waste disposal regulations after completion of the vaccination.
Wash hands after vaccination.
DIRECTIONS FOR USE – USE ONLY AS DIRECTED
DOSAGE
After reconstitution administer at least 1 dose of the vaccine per chicken by coarse spray or oculo-nasal administration (eye drop) to chickens from 1 day of age or older.
Spray method
The vaccine should be dissolved in cool, clean, non-chlorinated water which is free from iron.
The spray apparatus should be free from sediments, corrosion and traces of disinfectants.
The spray apparatus should be used for vaccination purposes only.
Measure the correct volume of water for the number of chickens to be vaccinated and add the contents of the correct number of cups while stirring. Mix thoroughly with a clean stirrer, ensuring that all vaccine is dissolved.
Offer to the chickens immediately after reconstitution.
When spray devices are used it is advisable to consult the technical staff of MSD Animal Health before using this technique.
Oculo-nasal administration
Reconstitute the vaccine with the appropriate amount of a suitable solvent and administer by means of the standardised dropper.
One drop should be applied into one nostril or one eye. Ensure that the nasal drop is inhaled before freeing the chicken. The eye drop should be allowed to spread across the surface of the eye and do not release the chicken until a swallowing motion is noticed.
Nobilis® Diluent Oculo Nasal is available as solvent.
INTERACTION WITH OTHER MEDICINAL PRODUCTS AND OTHER FORMS OF INTERACTION
Safety and efficacy data are available which demonstrate that this vaccine can be mixed and administered with Nobilis® IB Ma5. No information is available on the safety and efficacy of this vaccine when used with any other veterinary medicinal product except for the product mentioned above. A decision to use this vaccine before or after any other veterinary medicinal product therefore needs to be made on a case by case basis.
PRESENTATION
Lyophilisate
Sealed aluminium laminated cups containing 1 000, 5 000 or 10 000 doses.
Solvent (oculo-nasal administration)
35 mℓ Plastic vial with a rubber stopper and aluminium cap.
Packaging
Ten cups of lyophilisate containing the same dosage.
Ten vials of solvent (only supplied with 1 000 doses of vaccine).
REGISTRATION HOLDER
Intervet South Africa (Pty) Ltd.
20 Spartan Road
Spartan, 1619, RSA
Tel: +27 (0) 11 923 9300
Fax: +27 (0) 11 392 3158
www.msd-animal-health.co.za
MANUFACTURER
Intervet International B.V
Wim de Körverstraat 35
5831 AN Boxmeer, The Netherlands
DATE OF PUBLICATION OF THIS PACKAGE INSERT
9 November 2016