Remedy for nasal worm, liver fluke and wireworm in sheep and goats as well as liver fluke and wireworm in cattle.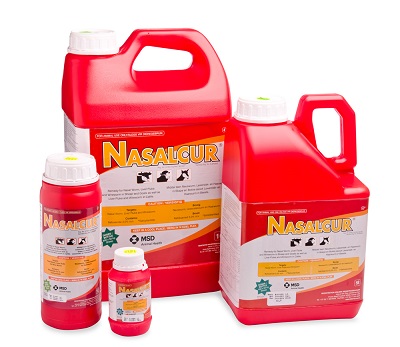 FOR ANIMAL USE ONLY
NASALCUR®
Reg. No. G1831 (Act 36/1947)
Namibia Reg. No. V93/18.1.3/519 [NS0]
INDICATIONS
Remedy for nasal worm, liver fluke and wireworm in sheep and goats as well as liver fluke and wireworm in cattle.
COMPOSITION
Contains: Rafoxanide 3,0 % m/v
* Salicylanilide
CAUTION
STORAGE
Store in a cool dry place.
WARNINGS
Withdrawal period: Do not slaughter animals for human consumption within 28 days of dosing.
Milk from treated animals must not be used for human consumption.
Do not dose lactating animals whose milk or milk products are intended for human consumption.
Care must be taken in calculating the correct dosage rate as overdoses may lead to toxicity.
Always ensure that all drenching procedures are carefully carried out. Care should be exercised in the dosing and handling of animals.
Dispose of any containers, disposable equipment and any other waste after use, in accordance with National Environmental Management: Waste Act, 2008 (Act No. 59 of 2008) and do not reuse for any other purpose.
KEEP OUT OF REACH OF CHILDREN, UNINFORMED PERSONS AND ANIMALS.
Although this remedy has been extensively tested under a large variety of conditions, failure thereof may ensue as a result of a wide range of reasons. If this is suspected, seek veterinary advice and notify the registration holder.
PRECAUTIONS
No worm remedy, not even Nasalcur®, should be dosed to sheep and goats that have not been immunised against pulpy kidney disease (enterotoxaemia).
Do not treat animals more frequently than every 3 weeks.
DIRECTIONS FOR USE – USE ONLY AS DIRECTED
Shake well before use.
Use as an oral drench.
DOSAGE
Sheep and goats – Dose 2,5 mℓ per 10 kg live mass.
Cattle – Dose 12,5 mℓ per 50 kg live mass
EXAMPLE: Cattle, Sheep and Goats
LIVEMASS
DOSE
NUMBER OF DOSES PER PACK
200 mℓ
1 ℓ
5 ℓ
10 ℓ
10 kg
2,5 mℓ
80
400
2 000
4 000
20 kg
5 mℓ
40
200
1 000
2 000
30 kg
7,5 mℓ
27
133
666
1 333
40 kg
10 mℓ
20
100
500
1 000
50 kg
12,5 mℓ
16
80
400
800
100 kg
25 mℓ
8
40
200
400
EFFICACY
WORM SPECIES
SHEEP AND GOATS
CATTLE
Immature
Adult
Immature
Adult
Wireworm
*
*
*
*
Liver Fluke
6 weeks **
*
*
Giant Liver Fluke
8 weeks *
*
*
Sheep and goats:
Nasal worm (Oestrus ovis): * Controls all larval stages
Explanation:
* Control (³ 90 % effective)
** Aids in control (60 to 89 % effective)
The list contains the more important endoparasite species. This anthelmintic may also be effective against other species. For more information consult your veterinarian.
PRESENTATION
200 mℓ, 1 ℓ, 5 ℓ, 10 ℓ plastic bottles.
REGISTRATION HOLDER
Intervet South Africa (Pty) Ltd.
20 Spartan Road, Spartan
1619, RSA
Tel. +27 (0) 11 923 9300
E-mail: msdahza@msd.com
www.msd-animal-health.co.za
DATE OF PUBLICATION OF THIS PACKAGE INSERT
27 September 2000