For the active immunisation of sheep against pulpy kidney, malignant oedema, blackquarter, tetanus and pasteurellosis caused by the above listed organisms.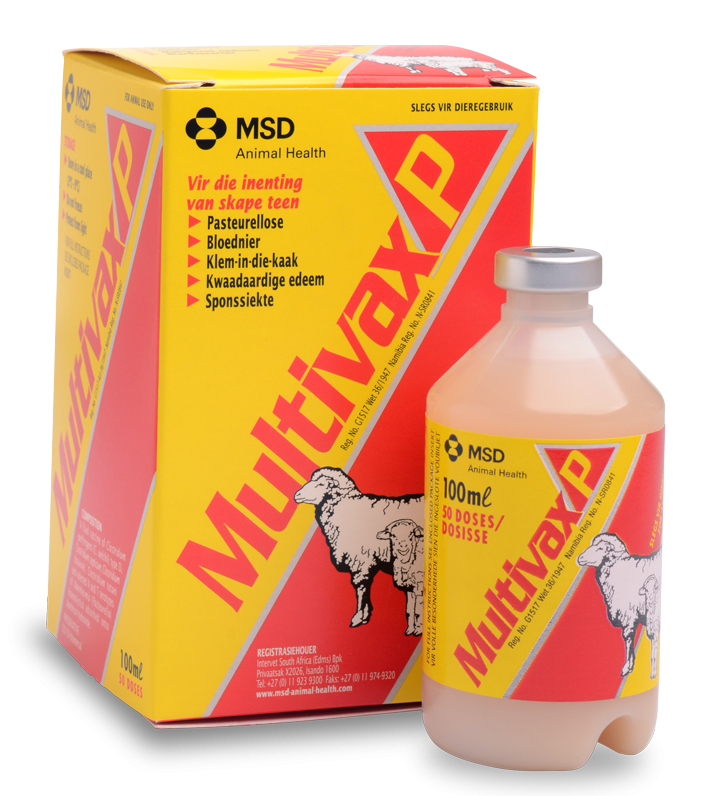 FOR ANIMAL USE ONLY
MULTIVAX-P
Reg. No. G1517 (Act 36/1947)
Namibia Reg. No. V92/24.4/521 NS0
INDICATIONS
For the active immunisation of sheep against pulpy kidney, malignant oedema, blackquarter, tetanus and pasteurellosis caused by the organisms listed below. In particular the vaccine is recommended as an aid in the prevention of pneumonic and septicaemic pasteurellosis in lambs.
COMPOSITION
An opaque fluid vaccine prepared from the purified formol toxoids of Clostridium perfringens (C. welchii) type D, Clostridium septicum, Clostridium tetani, purified formalin killed cultures of Clostridium chauvoei and antigens from the epidemiologically most important A and T serotypes of Mannheimia (Pasteurella) haemolytica in buffered physiological saline and adsorbed onto aluminium hydroxide.
Preservative: Thiomersal 0,013 %.
STORAGE
Store in a cool place between 2 °C and 8 °C. If stored in a refrigerator at between 2 °C and 8 °C, it may be expected to retain its potency up to the expiry date printed on the package.
Do not freeze.
Protect from light.
WARNINGS
The vaccine contains an adjuvant which may cause a temporary nodule at the site of injection.
In any group of animals a small number of individuals may fail to respond to vaccination as a result of immunological incompetence or for some other reason. Satisfactory immune responses will only be attained in healthy animals, thus it is important to avoid vaccination of animals which have intercurrent disease or which have a poor nutritional status.
As with most killed vaccines, significant levels of immunity cannot be expected until two weeks after the second dose of the primary vaccination course.
When vaccinating animals, stress should be avoided, particularly during later stages of pregnancy when there is a risk of inducing abortion or metabolic disorders.
As with all vaccines, occasional hypersensitivity reactions may occur.
Dispose of any unused vaccine as well as all empty vaccine containers and vaccination equipment according to local waste disposal regulations.
KEEP OUT OF REACH FROM CHILDREN, UNINFORMED PERSONS AND ANIMALS.
Although this remedy has been extensively tested under a large variety of conditions, failure thereof may ensue as a result of a wide range of reasons. If this is suspected, seek veterinary advice and notify the registration holder.
DIRECTIONS FOR USE – USE ONLY AS DIRECTED
Shake well before use.
Administration is by subcutaneous injection in the loose skin on the side of the upper neck, observing aseptic precautions.
Syringes and needles should be from gamma irradiated packs or freshly sterilised by boiling for at least 20 minutes.
No alcohol or other disinfectants should be used for sterilisation.
The bottle containing Multivax-P is collapsible and it is not necessary to inject air into the bottle to enable vaccine to be withdrawn. It is, therefore, suitable for use with an automatic reloading injection syringe without using an air tube through the bottle cap.
The instructions supplied with such syringes should be noted and care should be taken to ensure the delivery of the full dose, particularly with the final few doses from the bottle.
DOSAGE
Sheep of all ages should be given 2 mℓ subcutaneous injection with the dosage repeated after an interval of 4 to 6 weeks.
Lambs born to vaccinated ewes could be expected to have colostrum protection for up to 4 weeks against Mannheimia (Pasteurella) haemolytica and for up to 12 weeks against the clostridial diseases listed above.
Lambs being retained will thus require a full vaccination programme themselves. The timing of the first injection should be carefully considered so that the full vaccination programme can be completed before the period of expected risk of diseases due to Mannheimia (Pasteurella) haemolytica or clostridia.
Pasteurellosis due to infection with Mannheimia (Pasteurella) haemolytica A serotypes usually occurs in late spring or early summer, whereas septicaemic pasteurellosis associated with infection due to Mannheimia (Pasteurella) haemolytica T serotypes usually occurs in late summer or autumn.
Lambs born to unvaccinated ewes should be given a first injection of 2 mℓ vaccine during the first week of life and a second 2 mℓ injection 4 to 6 weeks later.
In areas of high incidence of pulpy kidney disease it may be advisable to give a third dose of vaccine to lambs born early in the year during the first year of life.
IDENTIFICATION
An opaque fluid vaccine.
PRESENTATION
100 mℓ (50 doses) and 500 mℓ (250 doses) collapsible low density polyethylene containers.
REGISTRATION HOLDER
Intervet South Africa (Pty) Ltd.
20 Spartan Road, Spartan
1619, RSA
Tel: +27 (0) 11 923 9300
Fax: +27 (0) 11 392 3158
www.msd-animal-health.co.za
MANUFACTURER
Intervet International B.V.
35 Wim de Körverstraat
NL – 5831 AN Boxmeer
The Netherlands
DATE OF APPROVAL OF THIS PACKAGE INSERT
30 January 2003