Micromin B is intended as an injectable multi-mineral supplement for cattle for prevention, maintenance or correction of diagnosed deficiencies of manganese, and/or copper, and/or chromium, and/or zinc and/or selenium which may arise during critical phases of the production or breeding life cycle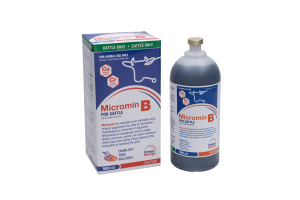 FOR ANIMAL USE ONLY
Consult a veterinarian before use
MICROMIN B
For Cattle
Reg. No. G4382 (Act 36/1947)
INDICATIONS
Micromin B is intended as an injectable multi-mineral supplement for cattle for prevention, maintenance or correction of diagnosed deficiencies of manganese, and/or copper, and/or chromium, and/or zinc and/or selenium which may arise during critical phases of the production or breeding life cycle.
COMPOSITION
Chromium 5 mg/mℓ
Copper 7,5 mg/mℓ
Manganese 10 mg/mℓ
Zinc 40 mg/mℓ
Selenium 5 mg/mℓ
CAUTION
STORAGE INSTRUCTIONS
Store in a cool dry place at or below 25°C. Do not freeze. Protect from high temperatures and sunlight during administration. Do not use after the expiry date printed on the container. Do not store any vials into which a needle or other device has been inserted, for future use.
WARNINGS
Micromin B has a zero-day withdrawal period.
Prolonged exposures to higher temperatures and sunlight may adversely affect efficacy.
The product is safe for the user, the consumer of foodstuffs from treated animals and for the environment, when used as recommended.
Do not use in species other than those indicated.
Deficiencies in trace elements may only be diagnosed by professionals. Before using this product, consult a veterinarian.
Selenium and copper toxicity may occur when an injectable product is used if selenium and copper levels are not established before use.
Local reactions at the injection site are common. A slight local irritation may be noticed for approximately 30 seconds after injection. A slight swelling may be observed at the injection site for a few days after administration.
Do not administer to animals in poor or extremely poor body condition.
Do not use in animal with jaundice.
KEEP PRODUCT OUT OF REACH OF CHILDREN, UNIFORMED PERSONS AND ANIMALS.
Although this remedy has been extensively tested under a large variety of conditions, failure thereof may ensue as a result of a wide range of reasons. If this is suspected, seek veterinary advice; notify the registration holder and the Registrar.
This product contains Copper and Chromium
PRECAUTIONS
Consult a veterinarian before use.
Follow standard sterile procedures during administration of injections.
Wear protective clothing, masks, gloves, boots, etc. according to hazard standards.
Avoid contact of the product with skin, eyes and mouth.
Do not eat, drink or smoke whilst handling the product.
Do not contaminate rivers, dams or any water sources with containers or waste.
Dispose of all empty containers and all unused contents with containers of waste.
Dispose of all empty containers and all unused contents in accordance with the local law.
Do not mix this product with any other vaccines or medicines.
DIRECTIONS FOR USE
Use only as directed.
Shake gently before use by inverting the vial several times.
Use the entire contents of a vial once opened.
Use the sterile syringes and needles to administer Micromin B.
Inject cattle subcutaneously on the side of the neck. DO NOT deviate from the recommended route and injection site location.
DOSAGE
Calves (25 to 250 kg): 1 mℓ per 50 kg body weight, subcutaneous.
Cattle (>250 kg): 1 mℓ per 100 kg body weight, subcutaneous.
PRESENTATION
Micromin B, a dark blue solution, is presented in a pack size of a 500 mℓ high density polyethylene (HDPE) vial of natural colour, capped with a gold-coloured aluminium cap.
REGISTRATION HOLDER
Vetvax (Pty) Ltd.
Reg. No. M2004/035302/07
442 Rigel Avenue South, Erasmusrand, Pretoria, 0181
Tel: +27 (0) 12 349 2772
www.designbio.co.za
MANUFACTURER
Design Biologix CC
Reg. No. 1992/028856/23
Tel: +27 (0) 12 349 2772
www.designbio.co.za
MARKETED AND DISTRIBUTED BY
MSD Animal Health
20 Spartan Road, Spartan, 1619, RSA
Tel: +27 (0) 11 923 9300
Fax: +27 (0) 11 392 3158
www.msd-animal-health.co.za
SLEGS VIR DIEREGEBRUIK
Raadpleeg 'n veearts voor gebruik
MICROMIN B
VIR BEESTE
Reg. Nr. G4382 (Wet 36/1947)
INDIKASIES
Micromin B word as 'n multi-minerale aanvulling vir beeste ingespuit as 'n voorkomende, onderhouds-korrektiewe dosis vir gediagnoseerde tekorte aan mangaan, en/of koper, en/of chroom, en/of sink en/of selenium wat tydens kritieke fases van die produksie of lewensiklus mag ontstaan.
SAMESTELLING
Chroom 5 mg/mℓ
Koper 7,5 mg/mℓ
Mangaan 10 mg/mℓ
Sink 40 mg/mℓ
Selenium 5 mg/mℓ
VERSIGTIG
BERGINGSAANWYSINGS
Bêre op 'n koel, droë plek onder 25°C. Moenie vries nie. Beskerm teen hoë temperature en sonlig tydens toediening. Moenie gebruik na die vervaldatum wat op die houer gedruk is nie. Moet nie die inhoud van 'n houer wat alreeds gebruik is, berg vir toekomstige gebruik nie.
WAARSKUWINGS
Micromin B het geen onttrekkingsperiode nie.
Langdurige blootstelling aan hoë temperature en sonlig kan die effektiwiteit van die produk benadeel.
Die produk is veilig vir die gebruiker, die verbruiker van voedsel van behandelde diere en vir die omgewing, wanneer dit gebruik word soos aanbeveel.
Moenie in ander spesies anders as die aangeduide spesies gebruik nie.
Tekortkominge in spoorelemente kan slegs deur professionele persone gediagnoseer word. Raadpleeg 'n veearts voordat u hierdie produk gebruik.
Selenium- en kopertoksisiteit kan voorkom wanneer 'n inspuitbare produk gebruik word indien selenium- en kopervlakke nie voorgebruik vasgestel is nie.
Plaaslike reaksies by die inspuitingsplek is normaal. 'n Ligte plaaslike irritasie kan vir ongeveer 30 sekondes na toediening opgemerk word. 'n Ligte swelling kan 'n paar dae na toediening op die inspuitingsplek waargeneem word.
Moet nie toegedoen word aan diere in 'n swak of uiters swak liggaamskondisie nie.
Moet nie in diere met geelsug gebruik word nie.
HOU DIE PRODUK BUITE BEREIK VAN KINDERS, ONINGELIGTE PERSONE EN DIERE
Alhoewel hierdie middle breedvoerig onder 'n wye verskeidenheid toestande getoets is, mag dit vaal as gevolg van verskeie redes. Indien dit vermoed word, raadpleeg 'n veearts en verwittig die registrasiehouer en die Registrateur.
Hierdie produk bevat Koper en Chroom
VOORSORGMAATREËLS
Raadpleeg 'n veearts voor gebruik.
Volg standaard steriele prosedures tydens toediening van inspuitings.
Dra beskermende klere, maskers, handskoene, stewels, ens. volgens die risikostandaarde.
Vermy kontak met die vel, oë en mond.
Moet nie eet, drink of rook tydens die hantering van die produk nie.
Moenie riviere, damme of waterbronne met houers of afval besoedel nie.
Gooi alle leë houers en alle ongebruikte inhoud volgens die plaaslike wetgewing weg.
Moenie hierdie produk met enige ander entstof of medisyne meng nie.
GEBRUIKSAANWYSINGS
Gebruik slegs soos aangedui.
Skud versigtig voor gebruik deur die houer 'n paar keer om te keer.
Gebruik die totale inhoud van 'n houer sodra dit oopgemaak is.
Gebruik steriele spuite en naalde om Micromin B toe te dien.
Spuit beeste onderhuids aan die kant van die nek. MOENIE van die aanbevole roete en plek van die inspuitingsplek afwyk nie.
DOSIS
Kalwers (25 tot 250 kg): 1 mℓ per 50 kg liggaamsmassa, onderhuids.
Beeste (>250 kg): 1 mℓ per 100 kg liggaansmassa, onderhuids.
AANBIEDING
Micromin B, 'n donkerblou oplossing, word aangebied in 'n verpakkingsgrootte van 'n 500 mℓ hoëdigtheidspoliëtileen (HDPE) houer van 'n natuurlike kleur, bedek met 'n goudkleurige aluminiumdoppie.
REGISTRASIEHOUER
Vetvax (Edms) Bpk.
Reg. Nr. M2004/035302/07
Rigellaan-Suid 442, Erasmusrand, Pretoria, 0181
Tel: +27 (0) 12 349 2772
www.designbio.co.za
VERVAARDIGER
Design Biologix BK
Reg. Nr. 1992/028856/23
Tel: +27 (0) 12 349 2772
www.designbio.co.za
BEMARK EN VERSPREI DEUR
MSD Animal Health
Spartanweg 20, Spartan, 1619, RSA
Tel: +27 (0) 11 923 9300
Faks: +27 (0) 11 392 3158
www.msd-animal-health.co.za