Imizol kills redwater (Babesiosis) and tick‑borne gallsickness (Anaplasmosis) organisms in cattle. It also prevents Asiatic redwater for up to 4 weeks and African redwater for up to 8 weeks in cattle.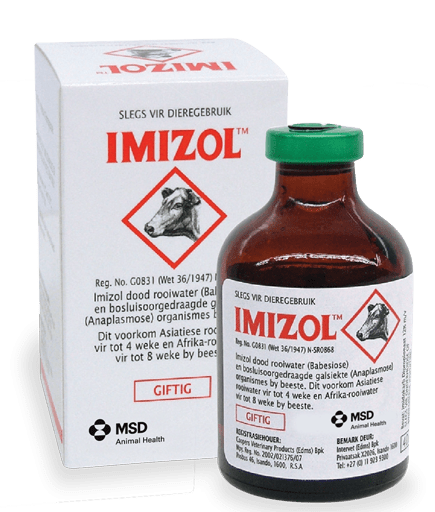 FOR ANIMAL USE ONLY
IMIZOL®
Reg. No. G0831 (Act 36/1947)
Namibia Reg. No. V03/17.4.2/ NS0
INDICATIONS
Imizol® kills redwater (Babesiosis) and tick-borne gallsickness (Anaplasmosis) organisms in cattle. It also prevents Asiatic redwater for up to 4 weeks and African redwater for up to 8 weeks in cattle.
COMPOSITION
Contains: Imidocarb dipropionate 12 % m/v
POISONOUS
STORAGE
Store below 25 °C. Protect from light
WARNINGS
Withdrawal period:

Milk from treated cows should not be used for human consumption within 6 days of treatment.
Animals intended for human consumption should not be slaughtered within 213 days of treatment.

Imizol® should only be used for preventive purposes in consultation with a veterinarian who must be fully conversant with local conditions pertaining to redwater infections/control as well as tick control for the area, farm or herd involved.
Imizol® is not recommended for use after the expiry date (2 years after date of manufacture) as it may be ineffective and may even be harmful to the animal.
Under certain circumstances of high challenge, virulent strains of Asiatic redwater cases may develop as early as 18 days after administering Imizol®.
Vaccine warning: After treatment with Imizol® (2,5 ml/100 kg body mass) cattle cannot be effectively vaccinated against Asiatic redwater for 8 weeks and against African redwater for 16 weeks.
Note to physician: This product in animal studies has been shown to be nephrotoxic and this should he borne in mind in the treatment of humans following accidental injection.
Antidote: No specific antidotes exist. Symptomatic treatment is indicated.
Dispose of empty containers according to local waste disposal regulations and do not reuse for any other purpose.
KEEP OUT OF REACH OF CHILDREN, UNINFORMED PERSONS AND ANIMALS.
Although this vaccine has been extensively tested under a large variety of conditions, failure thereof may ensue as a result of a wide range of reasons. If this is suspected, seek veterinary advice and notify the registration holder.
PRECAUTIONS
Sterilise all injection apparatus and use a separate clean sharp needle for each animal.
Swab the rubber seal of the bottle with methylated spirit immediately before puncturing with a needle.
A swelling may occur at the injection site in some animals. These disappear without forming abscesses.
There may be slight salivation after treatment.
The dose must be administered strictly according to body mass and must not be exceeded.
Take care to avoid accidental injection of operators.
DIRECTIONS FOR USE – USE ONLY AS DIRECTED
Shake well before use.

DOSAGE
DO NOT REPEAT THE DOSE WITHIN 4 WEEKS
Administration
The dose rate must not be exceeded, and the treatment must not be repeated within 4 weeks. If there is no improvement within 24 hours consult your veterinarian.
Inject subcutaneously or intramuscularly only (neck region or areas of least value).
MUST NOT BE USED INTRAVENOUSLY.
Examples of the use of Imizol® for prevention of redwater
NB: Only on the advice and recommendation of a veterinarian for each set of circumstances.
Outbreak of redwater in a herd.
Movement of susceptible cattle into tick areas.
Movement of susceptible animals through a redwater area.
Movement of a herd of tick infested cattle into tick free country containing clean susceptible cattle.
Purchase of cattle of unknown origin, i.e. susceptible or carrier cattle.
Animals taken to shows or sales where there is a risk of redwater.
To reduce the losses from redwater in feedlot cattle on their introduction.
PRESENTATION
10 mℓ, 40 mℓ and 100 mℓ neutral amber bottles, each closed with grey bromobutyl rubber stopper and silver aluminium collar and flip-off seal covered with green polypropylene cap.
REGISTRATION HOLDER
Intervet South Africa (Pty) Ltd.
20 Spartan Road,
Spartan, 1619, RSA
Tel: + 27 (0) 11 923 9300
Fax: + 27 (0) 11 392 3158
MANUFACTURER
Vet Pharma Friesoythe GmbH
Sedelsberger Str 2
26169 Friesoythe
Germany
DATE OF PUBLICATION OF THIS PACKAGE INSERT
28 October 2013
Zimbabwe Reg. No. 86/80.22.52/9135 Category: 802252 Babesiocides Distribution Category: VMGD