A remedy against roundworms, milk tapeworm and liver fluke in cattle, sheep and goats.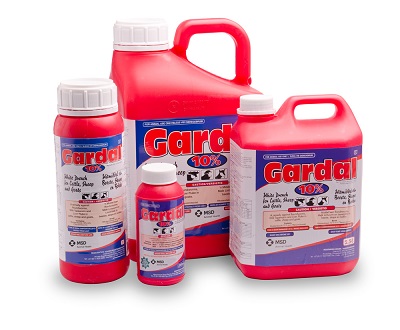 FOR ANIMAL USE ONLY

GARDAL 10%
Reg. No. G3201 (Act 36/1947)
Namibia Reg. No. V03/18.1.1/678 NS0
INDICATIONS
A remedy against roundworms, milk tapeworm in cattle, sheep and goats as well as liver fluke in cattle, sheep and goats.
COMPOSITION
Contains: Ricobendazole (Albendazole sulphoxide) 10 % m/v
2* Benzimidazole
CAUTION
STORAGE
Store at room temperature 25 ºC.
Protect from light.
WARNINGS
Withdrawal period:

Meat: 8 days (sheep & goats), 21 days (cattle)
Milk: Do not use for human consumption within 72 hours of administration.

Do not administer to pregnant cows/ewes during the first stage of pregnancy or during the first month after mating.
Dispose of diluted mixture as well as all empty containers according to local waste disposal regulations and do not reuse for any other purpose.
KEEP OUT OF REACH OF CHILDREN, UNINFORMED PERSONS AND ANIMALS.
Although this remedy has been extensively tested under a large variety of conditions, failure thereof may ensue as a result of a wide range of reasons. If this is suspected seek veterinary advice and notify the registration holder.
PRECAUTIONS
It is recommended that all animals be vaccinated against pulpy kidney (enterotoxemia) before any worm remedy is dosed.
Care should be taken that the correct dose of the remedy is provided to each animal.
DIRECTIONS FOR USE – USE ONLY AS DIRECTED
Shake well before use.
Administer by oral route as a drench.
Note: For sheep & goat administration – Gardal 10% must be diluted before administration – 1 part Gardal 10% diluted with 3 parts clean water (e.g. 1 ℓ Gardal 10% diluted with 3 ℓ clean water).
Diluted product may not be stored for future use. Use all diluted product or discard as per local waste disposal regulations.
For cattle administration Gardal 10% must be used undiluted.
Roundworms & milk tapeworm
Cattle: 1,5 mℓ undiluted Gardal 10%/20 kg (7,50 mg/kg body mass)
Sheep & Goats: 1,5 mℓ diluted Gardal 10%/10 kg (3,75 mg/kg body mass)
Liver fluke
Sheep & Goats: 2,0 mℓ diluted Gardal 10%/10 kg (5,0 mg/kg body mass)
DOSAGE RATE TABLE


EFFICACY IN CATTLE, SHEEP & GOATS
Roundworm Efficacy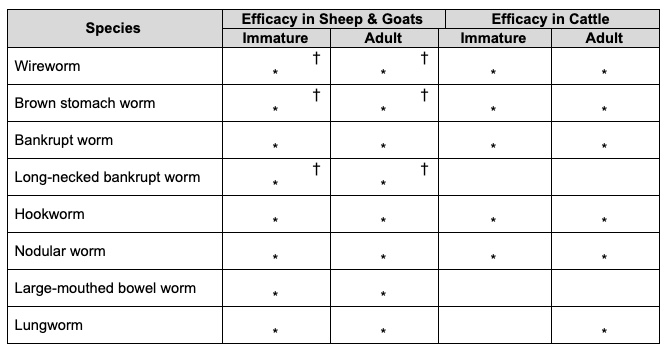 Definition: * Controls (≥90% effective)
** Aids in control (60 to 85% effective)
PRESENTATION
200 mℓ, 1 ℓ as well as 2,5 ℓ, 5 ℓ and 10 ℓ plastic bottles
REGISTRATION HOLDER
Intervet South Africa (Pty) Ltd.
20 Spartan Road,Spartan
1619, RSA
Tel: +27 (0) 11 923 9300
Fax: +27 (0) 11 392 3158
www.msd-animal-health.co.za
MANUFACTURER
Burchem Research (Pty) Ltd.
54 Electron Avenue
Isando
DATE OF PUBLICATION OF THIS PACKAGE INSERT
6 June 2013