For the treatment of mixed infections by nematodes and cestodes in adult dogs.
FOR ANIMAL USE ONLY
Exitel Plus
DEWORMER FOR DOGS
Reg. No. G4226 (Act 36/1947)
Namibia Reg. No. V21/18.3.9/1489 [NS0]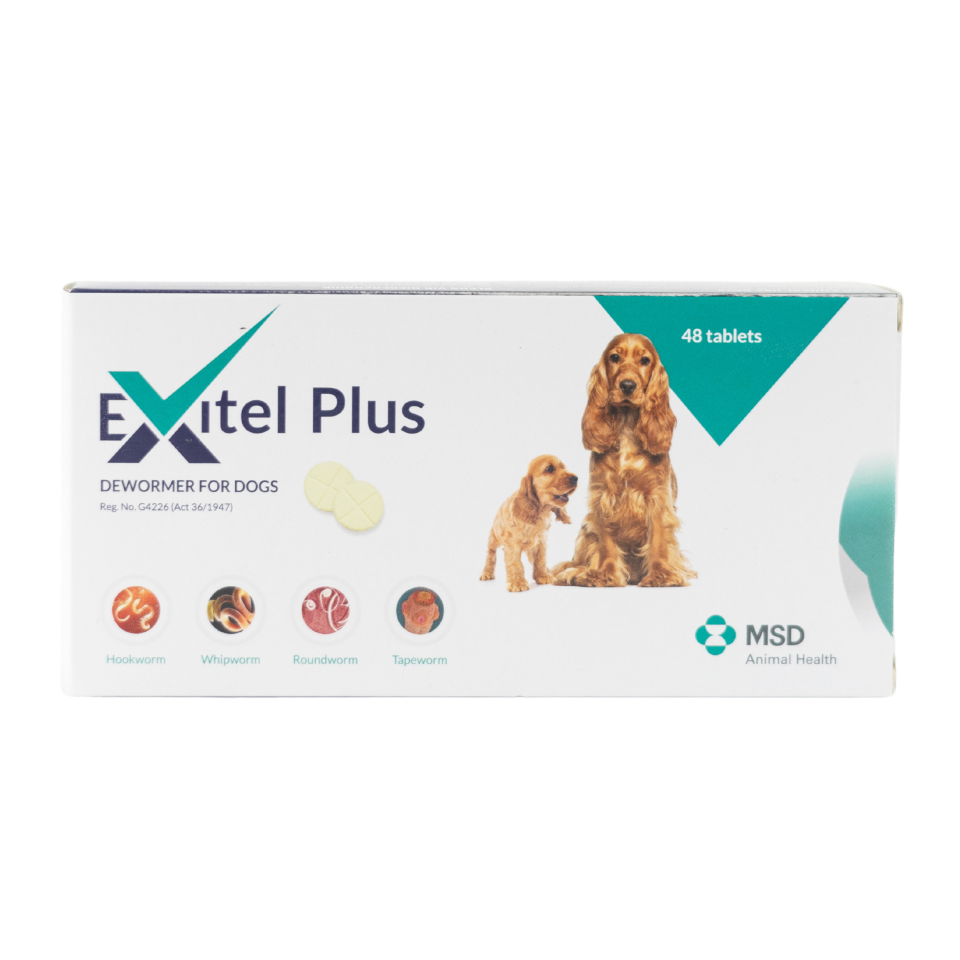 INDICATIONS
For the treatment of mixed infections by nematodes and cestodes of the following species in dogs:
Nematodes
Roundworms: Toxocara canis, Toxascaris leonina (adult and late immature forms).
Hookworms: Uncinaria stenocephala, Ancylostoma caninum (adults).
Whipworms: Trichuris vulpis (adults).
Cestodes
Tapeworms: Echinococcus species (E. granulosus, E. multilocularis), Taenia species (T. hydatigena,
T. pisiformis, T. taeniformis), Dipylidium caninum (adult and immature forms).
COMPOSITION
Each Exitel Plus tablet contains:
Praziquantel 50 mg
Pyrantel 50 mg (equivalent to 144 mg pyrantel embonate)
Febantel 150 mg
STORAGE INSTRUCTIONS
Store at or below 25 °C in a cool dry place.
WARNINGS
Special warnings for each target species
Fleas serve as intermediate hosts for one common type of tapeworm – Dipylidium caninum. Tapeworm infestation is certain to reoccur unless control of intermediate hosts such as fleas, rodents, etc. is undertaken.
Tapeworm infestation is unlikely in pups less than 6 weeks of age.
Parasite resistance to any particular class of anthelmintic may develop following frequent, repeated use of an anthelmintic of that class.
KEEP OUT OF REACH OF CHILDREN, UNINFORMED PERSONS AND ANIMALS.
Although this remedy has been extensively tested under a large variety of conditions, failure thereof may ensue as a result of a wide range of reasons. If this is suspected, seek veterinary advice and notify the registration holder.
PRECAUTIONS
Special precautions for use in animals
Any partially used tablet should be discarded according to local waste disposal regulations.
To ensure administration of a correct dose, body weight should be determined as accurately as possible.
DIRECTIONS FOR USE – USE ONLY AS DIRECTED
For oral administration only.
Recommended dosage:
The recommended dose rates are 15 mg/kg body weight febantel, 5 mg/kg pyrantel (equivalent to 14,4 mg/kg pyrantel embonate) and 5 mg/kg praziquantel.
This is equivalent to one Exitel Plus tablet per 10 kg body weight.
Dosage table:
| | |
| --- | --- |
| Body Weight (kg) | Tablets |
| 0,5 – 5 | ½ Exitel Plus tablet |
| 5 – 10 | 1 Exitel Plus tablet |
| 11 – 20 | 2 Exitel Plus tablets |
| 21 – 30 | 3 Exitel Plus tablets |
| 31 – 40 | 4 Exitel Plus tablets |
| 41 – 50 | 5 Exitel Plus tablets |
Puppies should be dewormed every 2 weeks from the age of 2 to 12 weeks and at regular intervals of 3 to 6 months thereafter to control worm infestation.
If there is a risk for reinfestation, the advice of a veterinarian should be sought regarding the need for and the frequency of repeat administration.
The tablets can be given directly to the dog or disguised in food. No starvation is needed before or after treatment.
OVERDOSE
The combination of praziquantel, pyrantel embonate and febantel is well tolerated in dogs. In safety studies, a single dose of 5 times the recommended dose or greater gave rise to occasional vomiting.
CONTRAINDICATIONS
Do not use simultaneously with piperazine compounds.
Do not use in animals with a known sensitivity to the active ingredients or to any of the excipients.
SIDE EFFECTS
None known.
PREGNANCY AND LACTATION
Teratogenic effects can be caused by high doses of febantel and was reported in sheep and rats.
No studies were done in dogs during early pregnancy. Use of Exitel Plus during pregnancy should be in accordance with a benefit-risk assessment done by the treating veterinarian.
It is recommended that Exitel Plus is not used during the first 4 weeks of pregnancy. Do not exceed the prescribed dose when pregnant bitches are treated.
INTERACTION WITH OTHER MEDICINAL PRODUCTS AND OTHER FORMS OF INTERACTION
Do not use simultaneously with piperazine compounds as the anthelmintic effects of pyrantel and piperazine may be antagonised.
Concurrent use with other cholinergic compounds can lead to toxicity.
PRESENTATION
A pale yellow uncoated tablet with a cross break-line on one side and plain on the other side.
Packaged in blister packs made of PVC/PE/PCTFE with 20-micron aluminium foil, within a carton box that contains 48 tablets.
REGISTRATION HOLDER
Intervet South Africa (Pty) Ltd.
20 Spartan Road
Spartan, 1619, RSA
Tel: +27 (0) 11 923 9300
E-mail: msdahza@msd.com
www.msd-animal-health.co.za
MANUFACTURER
Chanelle Pharmaceuticals Manufacturing Ltd.
Dublin Road, Loughrea Co Galway, H62 FH90, Ireland
DATE OF PUBLICATION OF THIS PACKAGE INSERT
20 July 2017
ZIMBABWE ONLY
Registration number: 2022/80.12.20/9824
Pharmacological classification: 80.12.20
Anthelmintics used in small animals
Category for Distribution: V.M.G.D.