Ectodex is a dip wash used for the control of demodectic mange, sarcoptic mange, ticks and lice in dogs.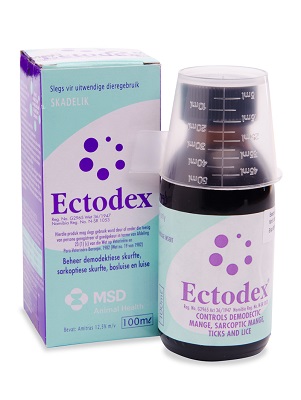 FOR EXTERNAL ANIMAL USE ONLY
ECTODEX
Reg. No. G2965 (Act 36/1947)
Namibia Reg. No. V02/18.3.4/662 [NS0]
This product may only be used by or under the supervision of persons registered or authorised in terms of Section 23(1)(c) of the Veterinary and Para-Veterinary Professions Act, 1982 (Act No. 19/1982).
INDICATIONS
Controls demodectic mange, sarcoptic mange, ticks and lice on dogs.
HARMFUL
COMPOSITION
Amitraz 12,5 % m/v
STORAGE
Store in a cool, dry place at or below 25 °C.
WARNINGS
Do not use on Chihuahuas.
Do not use on dogs suffering from heat stress.
Ectodex is not recommended for use on cats.
Transient drowsiness may be noted at the demodectic mange dose. Recovery is spontaneous.
Discard any unused dip wash and all empty containers according to local waste disposal regulations and do not reuse for any other purpose.
KEEP OUT OF REACH OF CHILDREN, UNINFORMED PERSONS AND ANIMALS.
Although this remedy has been extensively tested under a large variety of conditions, failure thereof may ensue as a result of a wide range of reasons. If this is suspected, seek veterinary advice and notify the registration holder.
PRECAUTIONS
For use on dogs only.
Avoid contact of the product with the eyes, skin and mouth.
Do not eat, drink or smoke whilst handling the product.
Wear rubber gloves when diluting and using the dip wash.
Avoid contact with dip and wash immediately and thoroughly with soap and hot water after accidental contamination.
Protect product from extreme heat, cold and from dampness.
Tightly reseal the container if all the contents have not been used.
Dispose of any containers, disposable equipment and any other waste after use, in accordance with National Environmental Management: Waste Act, 2008 (Act No. 59 of 2008) and do not reuse for any other purpose.
Do not store unused containers for future use.
Do not contaminate rivers, dams or any water sources with containers or waste.
USE DURING PREGNANCY AND LACTATION
Teratology and reproduction studies in laboratory animals revealed no adverse effects.
DIRECTIONS FOR USE – USE ONLY AS DIRECTED
FOR EXTERNAL USE OF DOGS ONLY.
Ectodex should not be mixed with any other dip.
This dip wash must be freshly prepared prior to use.
Dog(s) dipped should not be rinsed after the coat has been saturated and should be allowed to drip-dry naturally.
Mixing instructions
Mix the required volume of Ectodex with the specified volume of lukewarm water in a suitable container.
| | | |
| --- | --- | --- |
| | Ectodex | Water (lukewarm) |
| Demodectic mange | 40 mℓ | 10 ℓ |
| Sarcoptic mange | 20 mℓ | 10 ℓ |
| Ticks and lice | 10 mℓ | 10 ℓ |
Demodectic Mange: Repeat treatment 5 to 7 days later until no live mites can be identified or continue treatment for at least 3 weeks after all clinical signs have subsided.
Sarcoptic Mange: Repeat treatment 7 to 10 days later.
Ticks and Lice: Repeat treatment as necessary.
PRESENTATION
Every carton contains one 100 mℓ amber glass bottle.
REGISTRATION HOLDER
Intervet South Africa (Pty) Ltd.
20 Spartan Road
Spartan
1619, RSA
Tel: +27 (0) 11 923 9300
E-mail: msdahza@msd.com
DATE OF PUBLCATION OF THIS PACKAGE INSERT
13 November 2001