Ready to use pour-on for cattle, sheep and goats.
FOR EXTERNAL ANIMAL USE ONLY
DELETE® ALL
Reg. No. G2837 (Act 36/1947)
Namibia Reg. No. V01/18.3.9/664 [NS0]
INDICATIONS
Ready-to-use pour-on for cattle, sheep, goats and game.
– Residual action.
– Non-systemic action.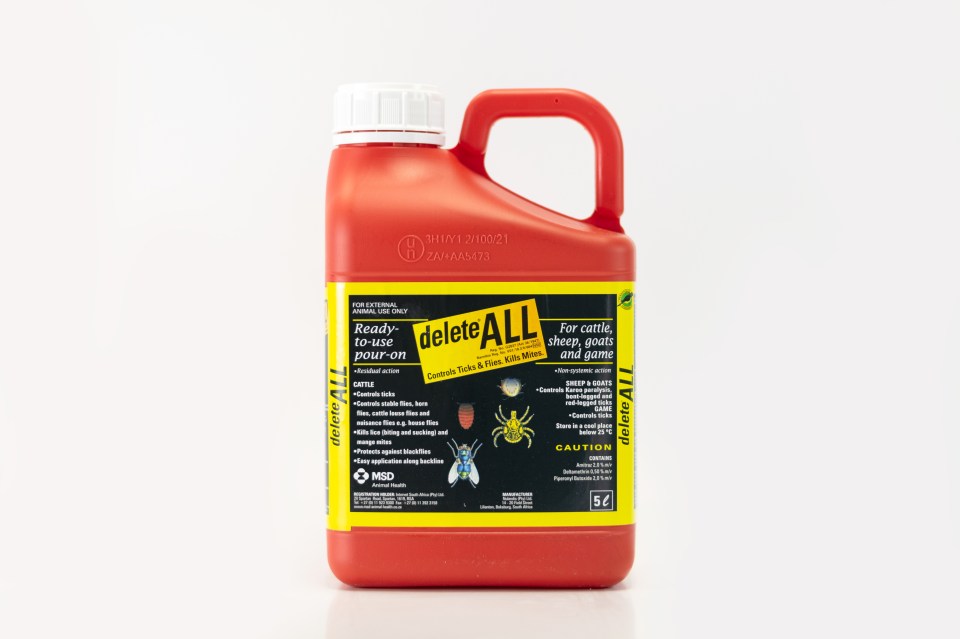 Cattle
Controls ticks.
Controls stable flies, horn flies, cattle louse flies and nuisance flies e.g. house flies
Kills lice (biting and sucking) and mange mites.
Protects against blackflies.
Easy application along backline.
Sheep and goats
Controls Karoo paralysis, bont-legged and red-legged ticks.
Game
COMPOSITION
Contains: Amitraz 2,0 % m/v
                    Deltamethrin 0,50 % m/v
                    Piperonyl Butoxide 2,0 % m/v
CAUTION
STORAGE
Store in a cool place, at or below 25 °C.
Store away from food and feed.
WARNINGS
Meat – 7 days
Milk – Zero days
DO NOT USE ON HORSES AND OTHER EQUIDAE SPECIES.
DO NOT USE ON CALVES/LAMBS UNDER 1 MONTH OLD.
Treat strictly according to body weight.
Signs of salivation and lethargy may occur with overdosage. These signs are transient and will pass with no ill effect.
Synthetic pyrethroid pour-ons may cause irritation. It is suggested that a group of 10 animals be treated first and observed for an hour before treating the rest of the herd.
KEEP OUT OF REACH OF CHILDREN, UNINFORMED PERSONS AND ANIMALS.
Although this remedy has been extensively tested under a large variety of conditions, failure thereof may ensue as a result of a wide range of reasons. If this is suspected, seek veterinary advice and notify the registration holder.
PRECAUTIONS
Avoid contact of the product with the eyes, skin and mouth.
Do not eat, drink or smoke whilst handling the product.
Dispose of any containers, disposable equipment and any other waste after use, in accordance with National Environmental Management: Waste Act, 2008 (Act No. 59 of 2008) and do not reuse for any other purpose.
Do not store unused containers for future use.
Do not contaminate rivers, dams or any water sources with containers or waste.
DIRECTIONS FOR USE – USE ONLY AS DIRECTED
SHAKE WELL BEFORE USE.
CATTLE
Ticks, Flies and Lice
Dose: 1 mℓ/10 kg.
Apply along the backline, from the shoulder to the root of the tail using a measuring dispenser.
In case of heavy brown ear or blue tick challenge, apply Delete® All from the base of the skull to the root of the tail.
Treat at regular intervals according to tick challenge. The longer the product is regularly applied, the more the tick population is reduced. It will then become possible to apply at intervals greater than 7 days.
For Blackfly (Simulium) apply also to ears and underline. Repeat as required according to challenge.
For population control of nuisance flies and stable flies, use 2 to 3 treatments at weekly intervals. Thereafter use according to challenge.
SHEEP AND GOATS
Dosage for optimal residual action: 1 mℓ/5 kg.
Environmental conditions and parasite challenge can influence treatment intervals.
Karoo Paralysis Ticks
Divide the full dose per animal into 4 equal parts. Apply 1 part onto each axillae and groin region, whilst the animal is turned over in a sitting position.
Treat at regular intervals according to tick challenge.
Bont- and Red-Legged Ticks
The dosage should be divided into 3 equal parts and applied to the axillae, groin and anogenital regions. Treat sheep at regular intervals of approximately 3 to 4 weeks or as necessary, according to tick challenge.
For crippled sheep apply 1 mℓ to the affected hoof/fetlock.
GAME
Ticks:
Dose: 10 mℓ/100 kg
Apply along the backline, from the shoulder to the root of the tail by means of a suitable applicator or apply with devices for game.
Treat weekly for a period of 3 weeks to reduce tick numbers and thereafter use according to tick challenge.
How to use the applicator
Remove the cap of the calibrated chamber.
Without removing the remaining cap, squeeze the container until the correct dosage volume is present in the calibrated chamber, and apply as prescribed.
PRESENTATION
Plastic bottles in 200 mℓ, 500 mℓ, 1 ℓ, 5 ℓ and 20 ℓ.
Not all pack sizes may necessarily be marketed.
REGISTRATION HOLDER
Intervet South Africa (Pty) Ltd.
20 Spartan Road, Spartan
1619, RSA
Tel: +27 (0) 11 923 9300
E-mail: msdahza@msd.com
www.msd-animal-health.co.za
DATE OF PUBLICATION OF THIS PACKAGE INSERT
17 May 2018