Coopers® Supadip is indicated for the control of ectoparasites on cattle, horses, sheep, goats and dogs: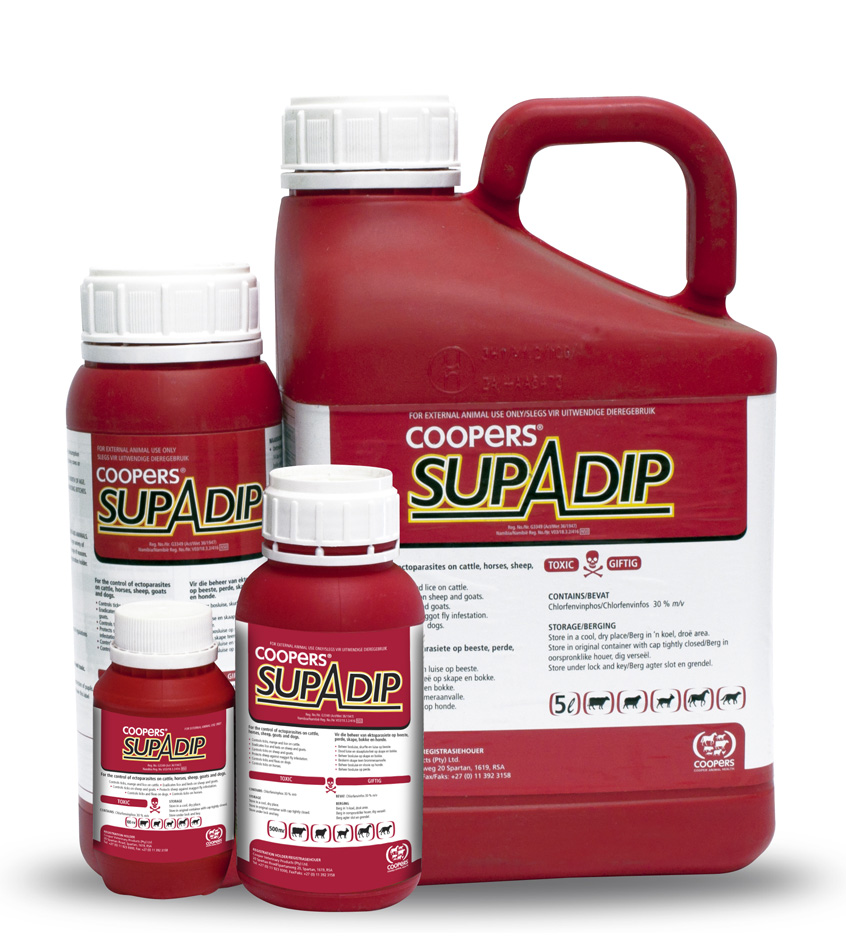 FOR EXTERNAL ANIMAL USE ONLY
COOPERS® SUPADIP
Reg. No. G3349 (Act 36/1947)
Namibia Reg. No. V03/18.3.2/416 NS0
INDICATIONS
Coopers® Supadip is indicated for the control of ectoparasites on cattle, horses, sheep, goats and dogs:
Controls ticks, mange and lice on cattle.
Eradicates lice and keds on sheep and goats.
Controls ticks on sheep and goats.
Protects sheep against maggot fly infestation.
Controls ticks and fleas on dogs.
Controls ticks on horses.
TOXIC
CONTAINS
Chlorfenvinphos 30 % m/v.
STORAGE
Store in a cool, dry place.
Store in original container with cap tightly closed.
Store under lock and key.
WARNINGS
Withdrawal period: Do not slaughter animals for human consumption within 14 days of last treatment. Do not apply to lactating dairy cows or goats producing milk for human consumption.
DO NOT DIP CALVES, LAMBS, KIDS OR FOALS LESS THAN 1 MONTH OF AGE.
DO NOT DIP PUPPIES LESS THAN 3 MONTHS OF AGE, OR NURSING BITCHES.
DO NOT DIP HOT, TIRED OR THIRSTY ANIMALS.
DO NOT USE ON CATS OR PIGS.
Toxic to fish – do not contaminate waterways.
Toxic to insects, birds and other animals.
KEEP OUT OF REACH OF CHILDREN, UNINFORMED PERSONS AND ANIMALS.
Although this remedy has been extensively tested under a large variety of conditions, failure thereof may ensue as a result of a wide range of reasons. If this is suspected, seek veterinary advice and notify the registration holder.
PRECAUTIONS
Do not smoke, eat or drink while handling this product.
Wear protective clothing and rubber gloves.
Avoid inhalation of spray wash.
Wash immediately in the event of skin contact.
Remove contaminated clothing and wash before reuse.
Dispose of empty containers according to local waste disposal regulations and do not reuse for any other purpose.
FIRST AID
Coopers® Supadip is an organophosphate compound and toxic.
Symptoms of poisoning:
Salivation, abdominal pain, diarrhoea, muscle tremors and constriction of pupils.
Should the above symptoms appear, seek medical advice and make this label available.
Antidote: Atropine and 2 PAM
DIRECTIONS FOR USE – USE ONLY AS DIRECTED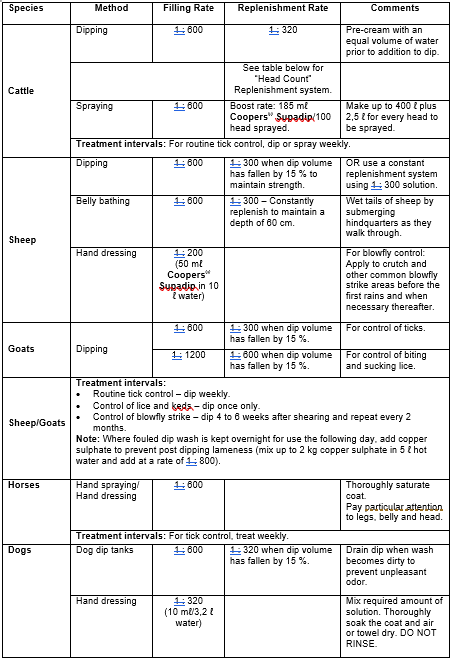 "Head Count" Replenishment System for Cattle Plunge Dips
After dipping add water to the dip tank to fill the dip tank to the required level. Then use the following table to calculate how much Coopers® Supadip needs to be added to the dip tank.

Note: 1 ℓ of Coopers® Supadip will replenish sufficient dip wash to dip 216 cattle.
PRESENTATION
12 Sachets of 33 mℓ each, packed in a carton container.
Amber glass containers containing 100 mℓ, 250 mℓ, 500 mℓ or 5 ℓ.
Not all pack sizes may be marketed.
REGISTRATION HOLDER
Cooper Veterinary Products (Pty) Ltd.
20 Spartan Road
Spartan
1619, RSA
Tel: +27 (0) 11 923 9300
Fax: +27 (0) 11 392 3158