Botuvax® is a vaccine for the active immunisation of cattle, horses, sheep and goats against botulism.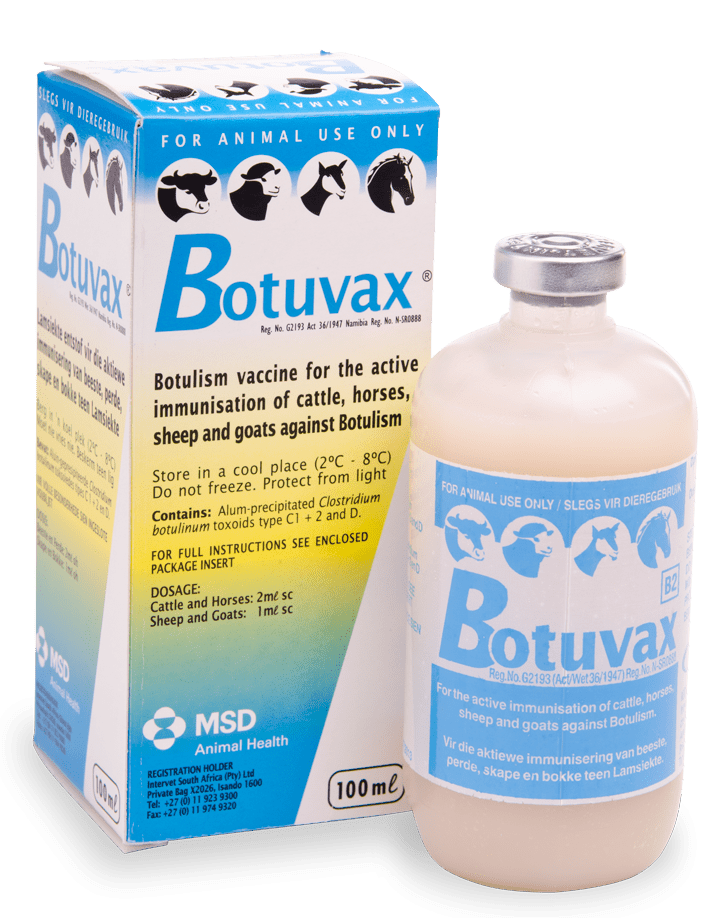 FOR ANIMAL USE ONLY
BOTUVAX®
Reg. No. G2193 (Act 36/1947)
Namibia Reg. No. V98/24.4/333 NS0
INDICATIONS
For the active immunisation of cattle, horses, sheep and goats against botulism.
COMPOSITION
Botuvax® is a colourless liquid with off-white precipitate which resuspends on shaking. It contains formalinised, alum-precipitated Clostridium botulinum types C 1 + 2 and D toxoids.
STORAGE
Store between 2 ºC and 8 ºC.
Do not freeze.
Protect from light.
WARNINGS
Withdrawal period: Do not slaughter animals for human consumption within 7 days of vaccination.
Some horses may show temporary local swelling at the site of injection.
Goats should be vaccinated in the loose skin underneath the tail. Do not vaccinate goats in the neck.
Botulism is caused by the toxin of Clostridium botulinum which is present in decomposing carcasses of animals and birds. If grazing is deficient in phosphorus cattle will satisfy the craving by eating old bones of decomposed carcasses and thus develop botulism, becoming paralysed. The vaccine will protect against the botulinum toxin but not substitute for the supplementary feeding of phosphorus.
Dispose of any empty containers as per local waste disposal regulations and do not reuse for any other purpose.
KEEP OUT OF REACH OF CHILDREN, UNINFORMED PERSONS AND ANIMALS.
Although this vaccine has been extensively tested under a large variety of conditions, failure thereof may ensue as a result of a wide range of reasons. If this is suspected, seek veterinary advice and notify the registration holder.
DIRECTIONS FOR USE – USE ONLY AS DIRECTED
Shake well before doses are withdrawn. Administer by subcutaneous injection. Animals can be vaccinated from 3 months of age.
Animals that have not previously been immunised should be given 2 injections of vaccine at an interval of 4 to 6 weeks. This second injection is very important for better immunity. Thereafter they require only 1 injection annually.
A separate sterile, sharp needle should be used for each individual animal.
DOSAGE
Cattle and horses: 2 mℓ subcutaneously
Sheep: 1 mℓ subcutaneously
Goats: 1 mℓ subcutaneously in the loose skin underneath the tail.
PRESENTATION
100 mℓ multi-dose bottle.
REGISTRATION HOLDER
Intervet South Africa (Pty) Ltd.
20 Spartan Road,Spartan
1619, RSA
Tel: +27 (0) 11 923 9300
Fax: +27 (0) 11 392 3158
www.msd-animal-health.co.za
MANUFACTURER
Prondil S.A.
Barros Arana 5402
Montevideo,
Uruguay
DATE OF PUBLICATION OF THIS PACKAGE INSERT
01 November 2016