For increased milk production in healthy, well-nourished adult cows.
FOR ANIMAL USE ONLY
BOOSTIN® PLUS
Reg. No. G2320 (Act 36/1947)
Only for use by or under the supervision of persons registered in terms of or authorised in terms of section 23 (1) (c) of the Veterinary and Para-Veterinary Professions Act, 1982 (Act 19 of 1982).
INDICATIONS
Boostin® Plus is an injectable long-acting bovine somatotropin used to increase milk production in well-nourished and properly managed dairy cows from the time of peak lactation to drying off.
Boostin® Plus increases the efficiency of milk production in lactating dairy cows by increasing the quantity of milk produced without altering the normal composition of milk. The increase in milk production efficiency is accompanied by an improvement in feed efficiency. Bovine somatotropin is a natural protein produced by the pituitary gland and promotes the use of nutrient energy for milk production.
COMPOSITION
Each 2 g cartridge contains 500 mg recombinant bovine somatotropin.
STORAGE
Store between 2 °C and 8 °C.
Do not freeze.
WARNINGS
Withdrawal period: Do not administer to dairy cows earlier than 60 days after calving. Do not administer to cows during the first lactation.
Ensure that the injection site is clean and dry.
Administer only by subcutaneous injection.
KEEP OUT OF REACH OF CHILDREN, UNINFORMED PERSONS AND ANIMALS.
Although this remedy has been extensively tested under a large variety of conditions, failure thereof may ensue as a result of a wide range of reasons. If this is suspected, seek veterinary advice and inform the registration holder.
PRECAUTIONS
SIDE-EFFECTS
DIRECTIONS FOR USE – USE ONLY AS DIRECTED
can be administered from 60 days after calving when the milk production decreases by 5 to 10 % from the lactational peak. Treatment must be stopped
30 days/1 month before intended dry-off.
Refer to the diagram below for instructions on loading the cartridge into the injector.
Diagram: Assembly of the cartridge and injector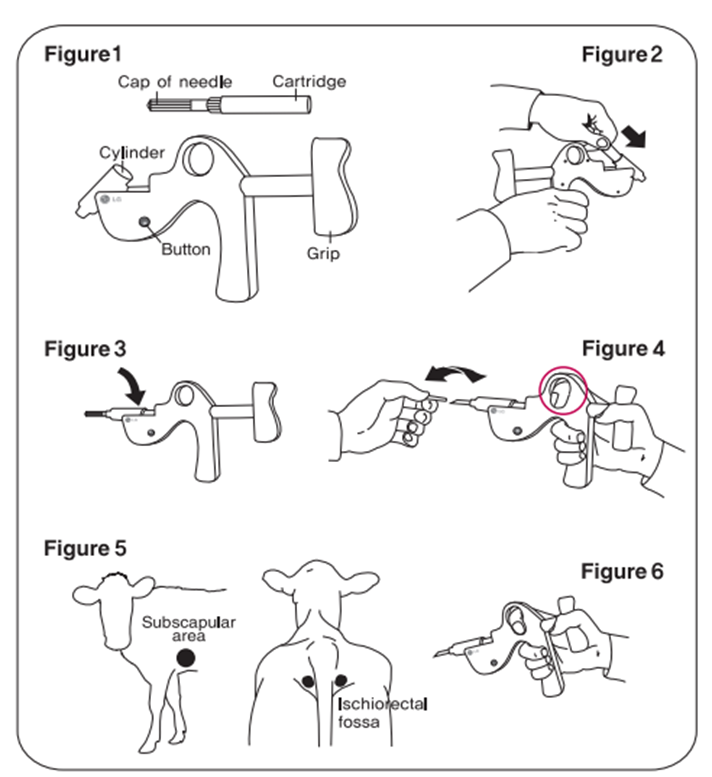 PRESENTATION
Faint yellow viscous liquid packed in 25 x 2g cartridges.
REGISTRATION HOLDER
Intervet South Africa (Pty) Ltd.
20 Spartan Road, Spartan
1619, RSA
Tel: +27 (0) 11 923 9300
www.msd-animal-health.co.za
DATE OF PUBLICATION OF THIS PACKAGE INSERT
10 November 2022