Combined blackquarter-anthrax vaccine for the active immunisation of cattle, sheep and goats against anthrax and blackquarter (Quarter Evil).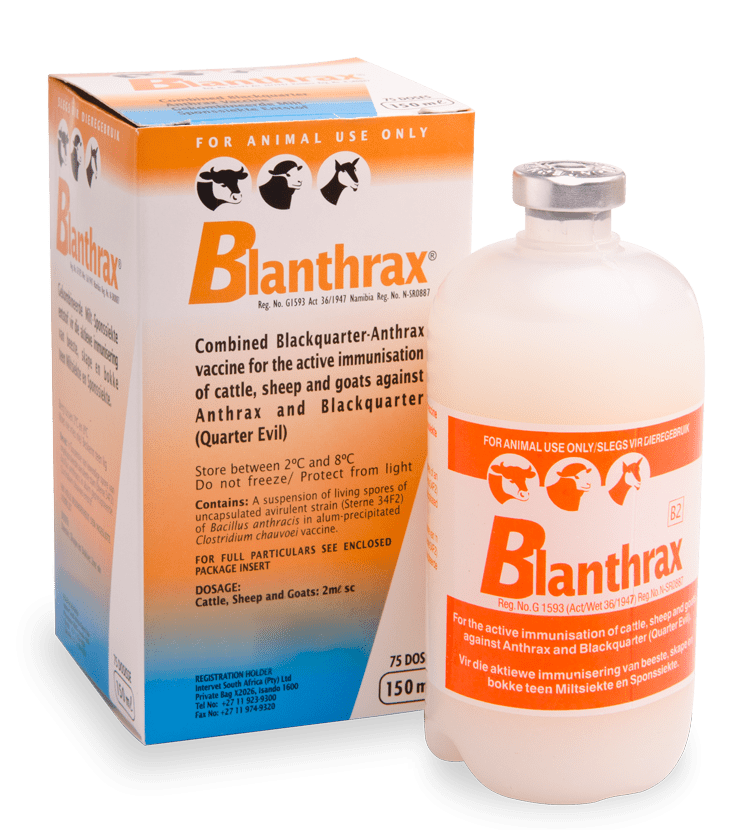 FOR ANIMAL USE ONLY
BLANTHRAX®
Reg. No. G1593 (Act 36/1947)
Namibia Reg. No. V93/24.4/520 [NS0]
Anthrax is a controlled disease in terms of the animal diseases act (Act 35/1984). The occurrence or suspicion of the disease must be reported to the responsible State Veterinarian immediately.
INDICATIONS
Combined black quarter-anthrax vaccine for the active immunisation of cattle, sheep and goats against anthrax and black quarter (quarter evil).
COMPOSITION
Contains a suspension of live spores of uncapsulated avirulent strain (Sterne 34F2) of Bacillus anthracis in alum-precipitated Clostridium chauvoei vaccine.
STORAGE INSTRUCTIONS
Store between 2 °C – 8 °C in a refrigerator.
Protect from light.
Do not freeze.
WARNINGS
Withdrawal period: Do not slaughter animals for human consumption within 21 days of vaccination.
Since the immune response to the anthrax component depends on multiplication of the living organisms after injection, the administration of antibacterial drugs should be avoided wherever possible from shortly before and until 2 weeks after vaccination.
The inoculation of animals late in pregnancy should be avoided unless there is a serious risk of disease.
As with all vaccines, occasional hypersensitivity reactions may occur. In such cases consult a veterinarian.
Usually, no marked reaction follows vaccination although a transient swelling may appear at the site of inoculation and an animal may show a rise in body temperature for 1 or 2 days.
KEEP OUT OF REACH OF CHILDREN, UNINFORMED PERSONS AND ANIMALS.
Although this vaccine has been extensively tested under a large variety of conditions, failure thereof may ensue as a result of a wide range of reasons. If this is suspected, seek veterinary advice and notify the registration holder.
PRECAUTIONS
Observe aseptic precautions. Ensure that vaccination equipment (needles, syringes, etc.) is clean and sterile prior to and during use.
Partially used containers should be disposed of at the end of each day's operation since under field conditions it may be difficult to avoid accidental contamination of the vaccine.
Destroy any unused vaccine and dispose of all the empty vaccine containers and disposable equipment after use in accordance with National Environmental Management: Waste Act, 2008 (Act No. 59 of 2008).
DIRECTIONS FOR USE – USE ONLY AS DIRECTED
The bottle should be shaken well before each dose is withdrawn.
Cattle, sheep and goats: 2 mℓ by subcutaneous injection.
Animals should first be vaccinated at 6 months of age and annually thereafter. In areas where animals younger than 6 months of age become infected, earlier vaccination may be carried out but if calves, lambs or kids less than 3 months old are vaccinated, a second dose should be given 6 weeks later to ensure an adequate immune response.
In areas where animals are likely to be subjected to continued exposure to infection, vaccination every 6 months may be advisable.
Under normal conditions, annual revaccination will usually suffice. Careful vaccination technique is required to ensure correct delivery. A two-handed technique with pinching of the skin and injection under the fold is recommended (tenting method).
PREGNANCY AND LACTATION
Can be used during pregnancy and lactation.
PRESENTATION
A yellowish liquid with an off-white precipitate which resuspends on shaking.
Polypropylene containers capped with synthetic rubber stoppers and aluminium seals.
150 mℓ (75 doses)
REGISTRATION HOLDER
Intervet South Africa (Pty) Ltd.
20 Spartan Road, Spartan
1619, RSA
Tel: +27 (0) 11 923 9300
E-mail: msdahza@msd.com
DATE OF PUBLICATION OF PACKAGE INSERT 25 July 2012