MSD Animal Health Marks Five Million Doses of Donated Rabies Vaccine
Join us on our mission to eliminate rabies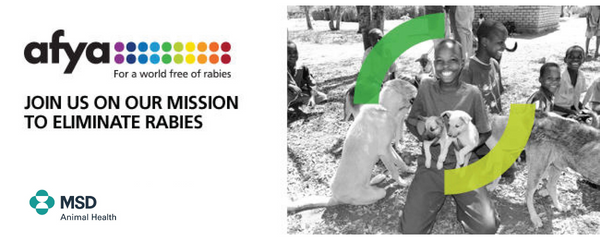 Through its Afya Program, MSD Animal Health Is Committed to the "United Against Rabies" collaboration's "Zero by 30" Rabies Elimination Goal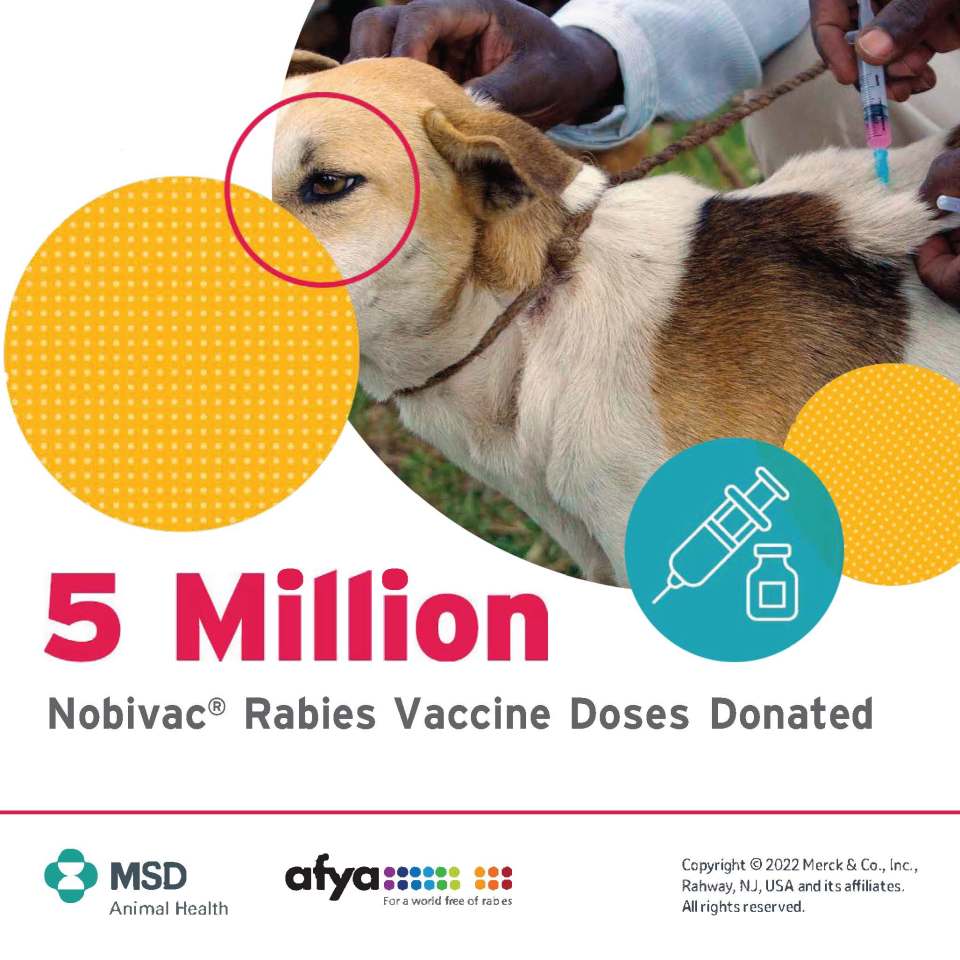 MSD Animal Health, a division of Merck & Co., Inc., Kenilworth, N.J., USA (NYSE: MRK), announced in preparation for World Rabies Day that it has now donated more than five million doses of its NOBIVAC® Rabies vaccine to help eliminate canine-mediated rabies. Through its Afya Program, MSD Animal Health donated the vaccines to key partners such as Mission Rabies and Rabies Free Africa, who administer the vaccine to dogs via mass vaccination campaigns in areas of the world where rabies is still endemic.
"Mission Rabies has now vaccinated nearly two million dogs through MSD Animal Health's Afya program with donated doses of their internationally approved NOBIVAC® Rabies vaccine," said Luke Gamble, BVSc, DVM&S, FRCVS, founder, Mission Rabies. "With only eight years left to achieve the global goal of zero dog-mediated human rabies deaths by 2030, we are focused on supporting rabies-endemic communities across India and beyond who lack adequate access to vaccines and other resources. This ongoing donation of life-saving canine rabies vaccine will help us to achieve that 2030 goal as we work with the global community to eliminate human cases of canine-transmitted rabies."
Rabies kills an estimated 59,000 people each year, with almost half of them children under 15 years of age,[i] in part due to the limited access to resources and vaccines in communities where rabies outbreaks continue and often education about rabies is low. However, rabies transmission can be eliminated in rabies-endemic areas when at least 70 % of dogs are covered through annual mass vaccination.[ii]
"Working collaboratively with MSD Animal Health, Rabies Free Africa has now administered more than 2.5 million doses of the NOBIVAC® Rabies vaccine," said Felix Lankester, DVM, Ph.D., director, Rabies Free Africa, Paul G. Allen School for Global Animal Health, Washington State University. "We are also researching which mass-dog vaccination campaign strategies are the most cost-effective methods to deliver vaccinations and eliminate canine-mediated rabies deaths. The Afya Program supports our efforts especially in hard-to-reach rural villages and surrounding communities in Africa."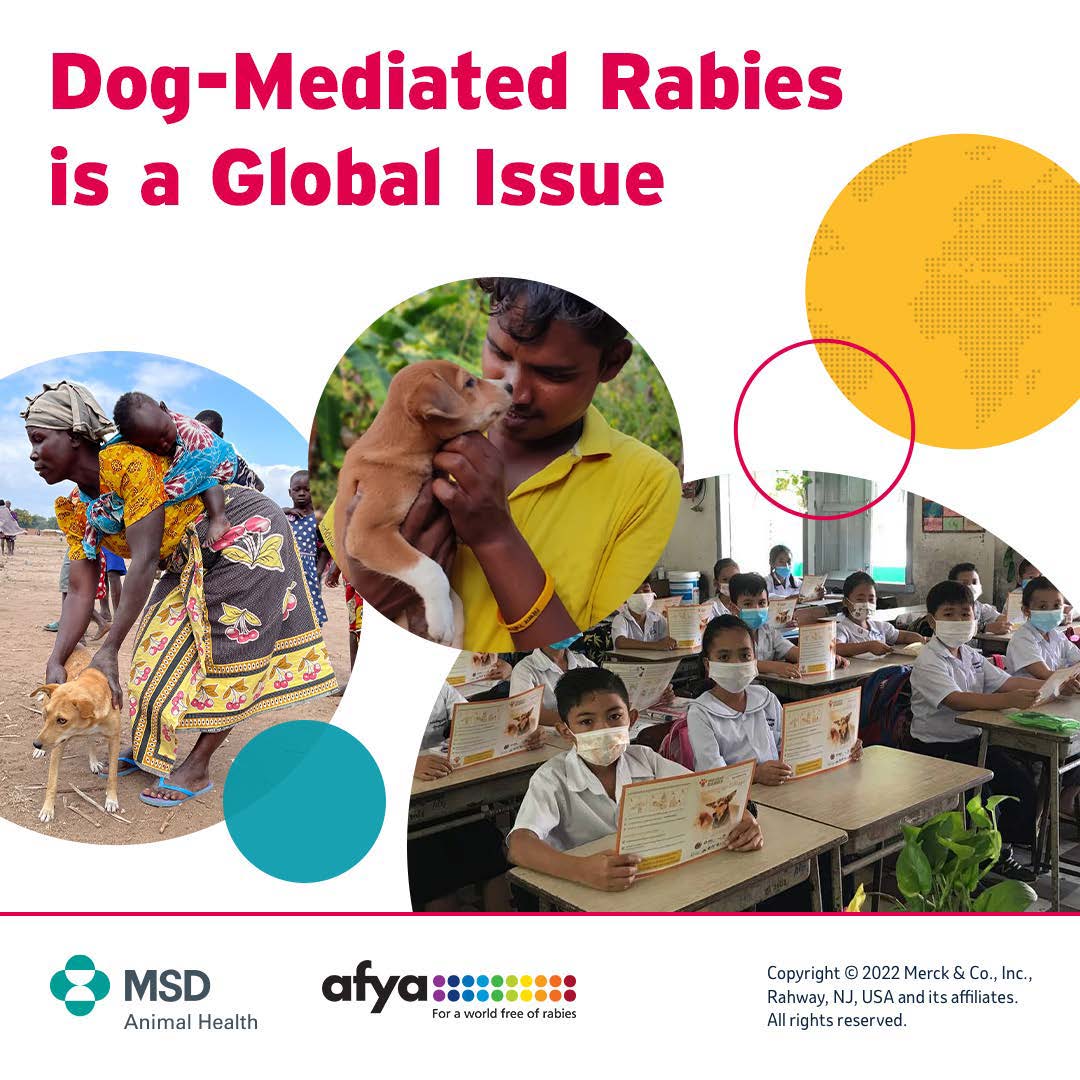 "We are thrilled to reach the five million mark for donated doses of MSD Animal Health's NOBIVAC® Rabies vaccine to help eliminate this deadly disease," said Ingrid Deuzeman, global marketing director, Companion Animal Vaccines, MSD Animal Health. "By taking a One Health approach to rabies elimination and collaborating with our partners like Mission Rabies and Rabies Free Africa, we can reduce the global burden of rabies and thus achieve better health for both animals and people – a true One Health success."
This World Rabies Day, share the importance of vaccination to eliminate canine-mediated rabies so we can reach the Zero by 30 goal using #WorldRabiesDay and #EndRabiesNow.

About Mission Rabies
Mission Rabies was initially founded as an initiative by Worldwide Veterinary Service (WVS), a United Kingdom-based charity group that assists animals. Mission Rabies has a One Health approach driven by research to eliminate dog bite transmitted rabies (a disease that is estimated to kill 59,000 people annually). Since launching in September 2013 with a mission to vaccinate 50,000 dogs against rabies across India, Mission Rabies teams have vaccinated nearly two million dogs with donated doses of MSD Animal Health's NOBIVAC® Rabies vaccine for their canine vaccination efforts and educated five million children about dog bite prevention in rabies endemic countries. For more information, visit www.missionrabies.com.

About Rabies Free Africa
Rabies Free Africa is empowering countries in east Africa to create self-sustaining programs to eliminate current human rabies deaths and set up surveillance systems to identify future outbreaks for containment. To reach the global goal by 2030, the focus needs to be on decreasing the cost of vaccinating dogs and increasing access to vaccines. To date, Rabies Free Africa has administered 2.5 million donated doses of MSD Animal Health's NOBIVAC® Rabies vaccine. Rabies Free Africa continues its work to discover ways to decrease the cost of mass-dog vaccinations and refine country and continent-wide programs that make the best use of limited resources. For more information, visit www.globalhealth.wsu.edu/initiatives/rabies-free-africa/.
About the Afya Program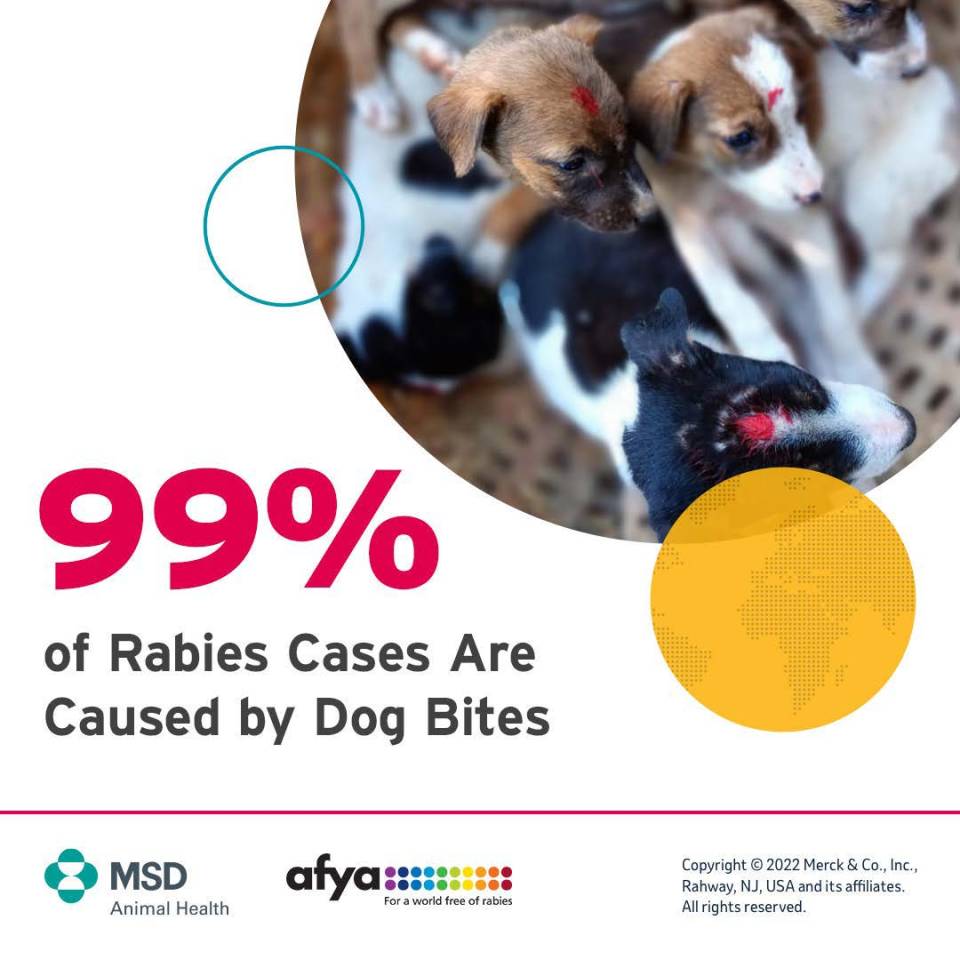 The Afya Program comprises of several rabies control projects supported by MSD Animal Health rabies vaccine donations, including Rabies Free Africa and Mission Rabies. These projects have been brought together under the name "Afya," which means "health" in Swahili. The Afya Program has committed to the "Zero by 30" initiative by donating five million doses and counting, of MSD Animal Health's Nobivac Rabies vaccinations, with the goal of eliminating rabies by 2030. For more information, visit www.afya.org.
About MSD Animal Health
At MSD, known as Merck & Co., Inc., Rahway, N.J., USA in the United States and Canada, we are unified around our purpose: We use the power of leading-edge science to save and improve lives around the world. For more than a century, we've been at the forefront of research, bringing forward medicines, vaccines and innovative health solutions for the world's most challenging diseases. MSD Animal Health is the global animal health business unit of MSD. Through its commitment to The Science of Healthier Animals®, MSD Animal Health offers veterinarians, farmers, pet owners and governments one of the widest ranges of veterinary pharmaceuticals, vaccines and health management solutions and services as well as an extensive suite of connected technology that includes identification, traceability and monitoring products. MSD Animal Health is dedicated to preserving and improving the health, well-being and performance of animals and the people who care for them. It invests extensively in dynamic and comprehensive R&D resources and a modern, global supply chain. MSD Animal Health is present in more than 50 countries, while its products are available in some 150 markets. For more information, visit www.msd-animal-healt.co.za.

---
[i] The World Health Organization. Rabies. Accessed June 3, 2022. https://www.who.int/health-topics/rabies#tab=tab_1
[ii] The World Health Organization. Rabies. Accessed June 3, 2022. https://www.who.int/news-room/fact-sheets/detail/rabies