For the control of blowfly strike and lice on sheep, lambs, goats and kids.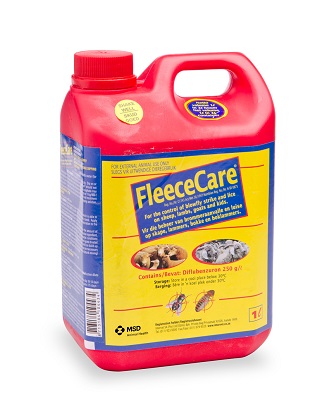 FOR EXTERNAL ANIMAL USE ONLY
FLEECECARE®
Reg. No. G1743 (Act 36/1947)
Namibia Reg. No. V93/18.3.8/515 NS0
INDICATIONS
For the control of blowfly strike and lice on sheep, lambs, goats and kids.
COMPOSITION
Contains: Diflubenzuron 250 g/ℓ
STORAGE
Store in a cool place below 30 °C.
WARNINGS
Withdrawal period: None
Do not dip within 10 days of shearing to allow shearing cuts or other injuries to heal.
Do not dip ewes heavy in lamb.
Do not add wetting agents to the dip solution, as they may adversely affect the products.
Do not contaminate dams, ponds, waterways or drains with Fleececare®, discarded sump solution or used containers. It should be disposed of as per local waste disposal regulations and do not reuse for any other purpose. Do not burn empty container or product.
KEEP OUT OF REACH OF CHILDREN, UNINFORMED PERSONS AND ANIMALS.
Although this remedy has been extensively tested under a large variety of conditions, failure thereof may ensue as a result of a wide range of reasons. If this is suspected, seek veterinary advice and notify the registration holder.
PRECAUTIONS
Avoid contact with eyes and skin.
Wash hands after use.
Store in closed, original container in a well-ventilated area, as cool as possible (below 30 ºC).
Do not store for prolonged periods in direct sunlight.
Triple rinse containers when empty, and add rinsing to dip/jetting sump. Fouled or unwanted sump solution should be placed in a soil pit, away from dams, ponds and waterways, where it will be broken down quickly by soil micro-organisms.
DIRECTIONS FOR USE – USE ONLY AS DIRECTED
General instructions
Fleececare® is based on a chemical from the benzoyl urea group known as insect growth regulators. This group of chemicals acts to prevent the deposition of chitin in larval stages of insects, thereby causing death. As this is not an acute process, treated parasites will take some time to die. Fleececare® does not affect mammals which do not rely upon chitin synthesis in normal body functions.
Note: Up to 6 weeks are required for this product to remove lice infestations on treated sheep and goats. Live lice on ewes treated within 6 weeks of lambing/kidding can infect lambs/kids born of these ewes. To avoid possible breakdown in lice control, treat ewes prior to 6 weeks before lambing/kidding.
N.B. The dipwash should be stirred continuously while jetting. Where a plunge tank is left to stand for more than 10 minutes without any animals being dipped, the dip wash should be stirred before use.
MIXING
In plunge dips, mechanical mixing should be carried out (board stirrer) followed by a group of at least 20 sheep or goats, which should be returned for re-dipping later in the day. Thorough agitation will be necessary after any breaks in dipping throughout the day i.e. meal times.
JETTING
Hand jetting
Only efficient equipment capable of ensuring fleece saturation to the skin is recommended. Pump pressure and hand equipment must be such that total fleece and skin wetting (including poll, neck, sides, crutch and pizzle) can be achieved for the entire flock.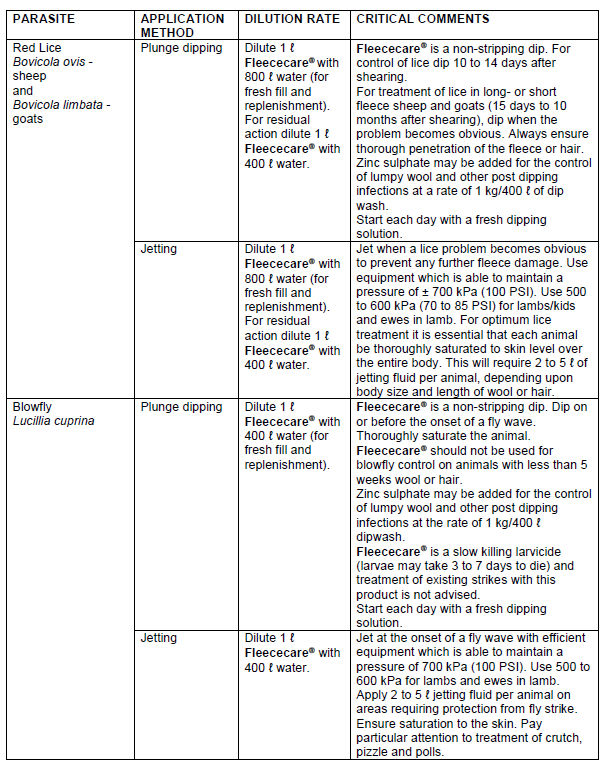 Anticipated length of protection: Length of protection is dependent upon the amount of active ingredient retained in the fleece. Therefore, factors affecting the retention of active ingredient, such as fleece length, thoroughness of application/fleece wetting, and environmental conditions after treatment, affect the length of protection obtained. As a general rule, sheep and goats treated in accordance with the label recommendations will be protected from fly-strike and lice build-up for a period of up to 16 weeks.Note: In instances of severe crutch infestation it may be necessary to repeat treatment after 10 weeks.
Fleececare® can be used simultaneously (in dip tank mixing) with Zipdip (G0381 Act36/1947, Namibia Reg. No. V93/18.3.8/515 NS0)
For the eradication and control of Red Lice on goats, Fleececare® can be used simultaneously (in dip tank mixing) with Taktic® Cattle Spray (G2535 Act 36/1947, Namibia Reg. No.V02/18.3.4/781 NS0) as a once-off treatment. The following dilution table must be used:

PRESENTATION
1 ℓ plastic containers.
REGISTRATION HOLDER
Intervet South Africa (Pty) Ltd.
20 Spartan Road, Spartan
1619, RSA
Tel: +27 (0) 11 923 9300
Fax: +27 (0) 11 392 3158
www.msd-animal-health. co.za
MANUFACTURER
Nulandis
14 Field Road
Lillianton, Boksburg
DATE OF PUBLICATION OF PACKAGE INSERT
10 January 2008