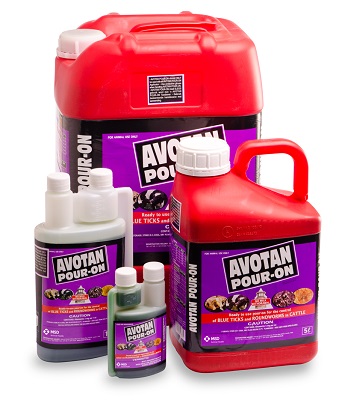 Ready-to-use pour-on for use in cattle for the control of blue ticks, horn flies and gastrointestinal roundworm in cattle.
FOR EXTERNAL ANIMAL USE ONLY
AVOTAN® PLUS POUR-ON Reg. No. G4216 (Act 36/1947)
INDICATIONS Ready-to-use pour-on for use in cattle for the control of blue ticks, horn flies and gastrointestinal roundworm in cattle. Avotan® Plus Pour-On has residual efficacy of 42 days against Rhipicephalus (Boophilus) spp. (blue ticks) in cattle.
COMPOSITION Contains: Abamectin 1,0 % m/v and fluazuron 2,5 % m/v.

CAUTION
STORAGE
Store at or below 30 °C in a dry place away from direct sunlight.
Flammable. Keep away from open flames.
Use the product within 21 days of opening.
WARNINGS
Withdrawal period: Do not slaughter cattle for human consumption within 54 days of last treatment.
Do not use on lactating cattle where milk is intended for human consumption.
Do not slaughter calves less than 10 months of age which have suckled on treated cows.
Do not use in animals younger than 4 months.
Only use the appropriate dosages, as recommended for this product.
Do not treat recovering, weak or stressed animals.
Do not administer the product orally or by injection.
Do not apply on animals with skin lesions.
It is not recommended to treat animals on extremely hot or rainy days.
KEEP OUT OF REACH OF CHILDREN, UNINFORMED PERSONS AND ANIMALS.
Although this remedy has been extensively tested under a large variety of conditions, failure thereof may ensue as a result of a wide range of reasons. If this is suspected, seek veterinary advice and notify the registration holder.
PRECAUTIONS
Avoid contact with the product. If skin contact occurs, remove contaminated clothing and wash skin thoroughly.
Wear protective gloves.
If the product comes into contact with your eyes, rinse them with abundant running water.
Dispose of empty containers in a safe manner and do not reuse for any other purpose. Empty containers should not be burned, but disposed of according to local waste disposal regulations.
This product is toxic to fish. Do not contaminate ponds, rivers, other water sources or the environment.
Do not store with food, drinks, medication or household products.
In the event of accidental ingestion, do not induce vomiting, rather drink lots of water and seek medical care immediately and show this package insert to the physician.

DIRECTIONS FOR USE – USE ONLY AS DIRECTED
Avotan® Plus Pour-On is a ready-to-use remedy.
Do not dilute or use with any other remedy.
Dosage: 1 mℓ/10 kg body weight (equivalent to 1,0 mg abamectin and 2,5 mg fluazuron/kg body weight) administered to cattle as a pour-on.
Pour the recommended amount of product along the top line, on a concentrated area along the rump-/lumbar area (middle of the back to the base of the tail).

For long-haired animals (e.g. during winter months), it is recommended that Avotan® Plus Pour-On is applied against the grain of the hair directly onto the skin.
Dosage Rate
| | |
| --- | --- |
| Weight | Dose |
| 100kg | 10 mℓ |
| 200kg | 20 mℓ |
| 300kg | 30 mℓ |
| 400kg | 40 mℓ |
| 500kg | 50 mℓ |

Treatment with Avotan® Plus Pour-On can be repeated as per the herd's reinfestation or as recommended by the veterinarian.

EFFICACY
Avotan® Plus Pour-On is indicated for the control of gastrointestinal nematodes in cattle:
| | | |
| --- | --- | --- |
| 1. Gastrointestinal nematode species | Immature | Adult |
| Wireworm (Haemonchus placei) | * | * |
| Nodular worm (Oesophagostomum radiatum) | * | * |
| Stomach bankrupt worm (Trichostrongylus axei) | * | * |
| Bankrupt worm (Trichostrongylus colubriformis) | * | * |
| Cattle bankrupt worm (Cooperia spatulata) | * | * |
*Controls (> 98 % effective)
2. Ticks
Avotan® Plus Pour-On is an acaricide which controls (> 90 % effective) blue ticks (Rhipicephalus decolorates and Rhipicephalus microplus) on cattle. It prevents the development of blue tick (Rhipicephalus decoloratus) eggs, larvae and nymphae to the adult stage.
Residual efficacy: 42 days against Rhipicephalus (Boophilus) spp. (blue ticks) in cattle.
3. Flies
Controls horn flies (Haematobia irritans) on cattle.
PRESENTATION
1 ℓ plastic (HDPE) containers. REGISTRATION HOLDER
Intervet South Africa (Pty) Ltd.
20 Spartan Road, Spartan
1619, RSA
Tel: +27 (0) 11 923 9300
Fax: +27 (0) 11 392 3158
www.msd-animal-heath.co.za
MANUFACTURER
Burchem Research
54 Electron Rd,
Kempton Park
DATE OF PUBLICATION OF THIS PACKAGE INSERT
06 March 2017
Downloads